Above-Ground Round Storm Shelter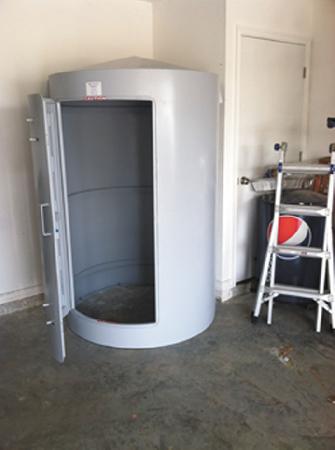 Built for strength, price and to save your life – that's the purpose of the above ground storm shelter made by Mid America Shelters.

"Being round, it's stronger and dissipates 40 percent of the wind. Plus, we can build it for less cost," says Don Bundy, who partnered with Ken Lord to develop and manufacture the shelter.

Currently they sell it around their area in Sapulpa, Okla., for $1,800, plus $300 for installation. But with the positive response they've been getting, they plan to establish dealers in other parts of the country.

People are surprised by the room in the 48-in. dia. shelter. It can hold up to 6 adults standing or a couple of people on folding chairs and two people standing.

The partners have years of experience manufacturing metal, and they kept the design simple – a 3/16-in. steel shell with ribs and a cone-shaped roof. It weighs 700 lbs. and is designed to be anchored to a concrete garage floor with wedge anchor bolts.

It meets FEMA and ICC-500 standards, withstanding a 15-lb. projectile at 100 mph, comparable to a 250 mph ground speed tornado.
"Also, we have the best latching system (inside and outside) according to Texas Tech," Bundy says. "It's a double gravity lock slide system. Nothing can knock it open."

Being round and above ground has several advantages, Bundy says. Many people, especially older people, don't like to go into underground shelters. By placing it in a garage, it's easily accessible. If it's buried in debris from a tornado, people inside can bang on the metal to be heard by rescuers – or use a cell phone. There are two small, covered vents and air coming in from around the door to provide adequate ventilation.
Bundy says firefighters at a trade show remarked that it was the best design they had seen.