World's Smallest Sheep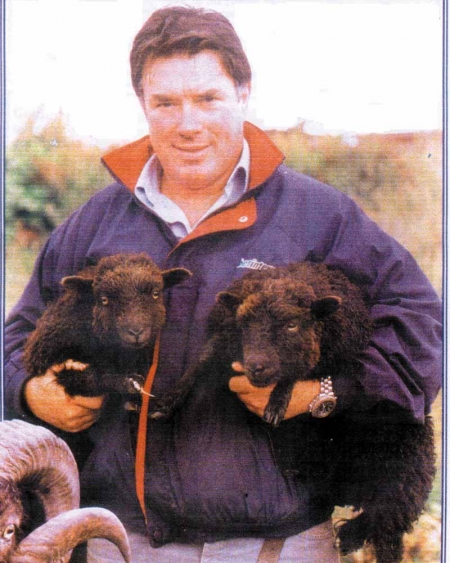 When James W. A. Graham first read about Ouessant sheep in the Guinness Book of World Records, which calls them the world's smallest sheep, he decided he had to get some.

That decision led to years of work to bring them to his farm on the Isle of Man, Great Britain.

Ouessant ewes (pronounced "wessont"), stand around 17 in. at the shoulder with rams at 19 in. Mature weight is around 25 lbs. Most have black wool although some white-woolled ones do occur. "They're a total dream to deal with and have exceptionally hard feet, free of foot problems," Graham says.

"Ouessant males are very quiet and easy to manage. Despite their size, there's nothing puny about the Ouessant. The rams are very striking and remind me of a miniature version of Bighorn sheep."

At birth, lambs weigh around 2 lbs. "When they're born they look more like cuddly black Labrador puppies than lambs. You could easily put one in your pocket," says Graham, adding that they're also vigorous and thrive on the attentiveness of their dams. "The ewes are wonderful mothers. They only have single lambs and dote on their offspring.

"Most Ouessant sheep are kept as pets in threes and fours rather than in breeding flocks. A few years ago the breed was on the verge of extinction with less than 300 sheep remaining but now numbers are beginning to improve."

Ouessants originally came from the uninhabited island of Ouessant off the Brittany coast. Their origin remains a mystery, though. It was once suggested that the breed was derived from stock of Viking descent and had links to Hebridean sheep from Scotland and the Skudde, which is a Nordic breed originating from the Baltic States.

After much research, Graham found a small band of enthusiasts in Holland, as well as others in France and Belgium. There are about 1,500 Ouessant sheep in Belgium, France and Holland.

Graham bought a ram and two ewes from a breeder in France. Before he could bring them home, though, he had to breed a generation that was scrapie-free and would meet other UK veterinary health regulations. This meant leaving them with a friend in Holland.

Within two years, Graham flew his first Ouessant from Holland to the UK. He has a flock of around 30 on his farm and hopes to import more.

Graham doesn't foresee many spare sheep on the market for some time though he admits he may have his arm twisted to part with a few.

Excerpted with permission from Rare Breeds Journal.