Caster Wheel Kit Keeps Skid Steer Loads Steady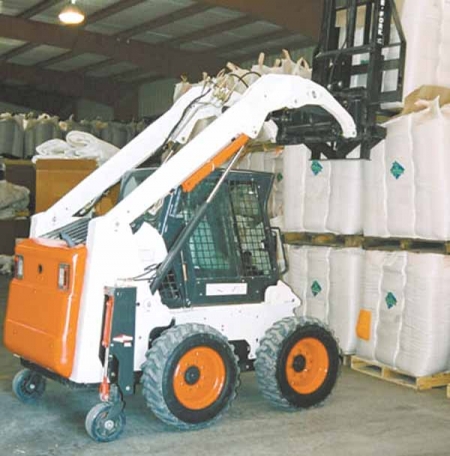 When you're carrying a heavy load on pallet forks with your skid loader and turn on a hard surface such as pavement or concrete, the machine's rear wheels can start bouncing, causing the load to drop off or leaving big skid marks. This new skid steer caster wheel kit adds stability that eliminates such bouncing.

The kit fits any skid loader brand. It consists of a pair of 4-in. wide, 10-in. high caster wheels that mount on a steel bracket that bolts onto the side of the skid loader, just behind the rear wheels. Each wheel is attached to a hydraulic cylinder that operates off the skid loader's remote outlets. By flipping a switch inside the cab, you can lower the wheels to raise the rear skid steer wheels up to 1 1/2 in. off the floor. The wheels lift up out of the way when not needed.

"It totally eliminates bouncing when turning," says Mark Weber, Sheyenne Tooling & Mfg., Cooperstown, N. Dak. "With the skid loader's rear wheels off the ground, you can spin around and make a turn as smooth as if you were on a merry go round. The compact design means the skid steer can fit in tight places.

"The caster wheels are recommended for skid loader operators who use a pallet fork to carry heavy loads on hard surfaces such as concrete or pavement. We also offer a similar kit using a pneumatic tire that can be used on a rougher surface such as hard-packed gravel."

The company also offers a self-contained caster wheel kit that includes an electric/hydraulic pump, hydraulic fluid reservoir, and wiring harness.