One-Man Fencing Machine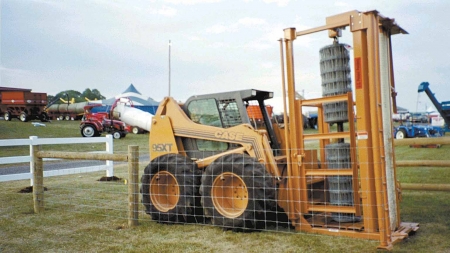 "Our new fencing machine allows one person using a skid steer loader to install or rewind all types of fencing, including woven wire, barbed wire, and chain link fence," says Sylvan Yoder, Beaver Fence LLC, McVeytown, Penn.

The "Easy Fencer" is designed to fit any skid steer loader and can unroll up to six wire strands at a time. It has a center pole in position to lock the fence into place, so the wire is ready to unroll. An electric winch on top of the machine is used to tip the pole down so the operator can load a 500-ft. roll of fence, then raise it back up. Wire feeds through a pair of rubber-coated rollers on front of the unit. The rollers on front keep tension on the wire. A hydraulic locking device secures the fencing and spindle, allowing the crew to cut and stretch wires without losing control of the roll.

A hydraulic motor on top of the machine is used to rewind old wire for reuse or disposal. The center pole has six slots to feed wire into. The shaft tilts out to unroll the full roll of wire.

"It works fast -- we've used it to install 8,000 ft. of fence in only eight hours," says Yoder. "We use it on a Case 95XT skid loader, but it can be used with any skid loader brand. It'll handle up to a 10-ft. tall game fence."