6-Shooter Barbeque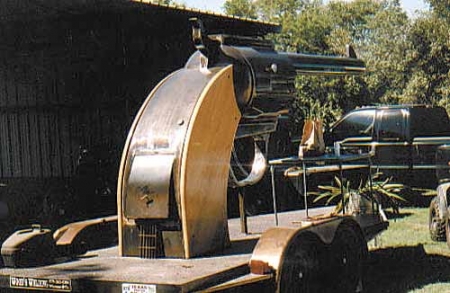 Being a Texan definitely had something to do with Joe Wood's decision to build a six-shooter the size of a pickup truck. The big handgun replica is actually a giant barbeque grill and smoker and it gets a lot of attention wherever it goes.

"It's built to scale, and stands 6 ft., 11 in. tall from the base of the handle to the top of the hammer and 15 ft., 4 in. from the handle to the end of the barrel," says Wood.

He operates Wood's Welding Service at Weimar, Texas, and got the idea to build the "smoking gun" after seeing a much smaller, much less detailed "pistol barbecue" at a duck-hunting gathering.

He decided to build his barbeque in perfect proportion to a six-shooter owned by a buddy of his and says it took two years to finish.

"I spent about 1,100 hours working on it -- 900 thinking about it, and 200 in the shop," Wood says. "I scratched myself bald-headed, almost."

As a professional welder, his hobby has been creating furniture and household items out of scrap metal, iron pipe and horseshoes. However, the smoking gun project required mainly new materials.

The handle is actually the firebox and you load wood through a door on the back side. The cylinder is where the grill is located and the smoke escapes out the barrel, giving the appearance that the gun has just been fired.

Since the handle has 2 1/2-in. thick Red Oak panels on each side, there's a double-walled, insulated firebox on the inside, to prevent the wood from becoming too hot.

The cylinder is made from a 3-ft. long section of 6-in. thick by 30-in. dia. pipe. There's a door on one side with a removable handle. The door hinges are on the inside, so as not to distract from the overall appearance.

The six 5-in. dia. bullets are made from stainless steel. The barrel is 10 ft. long and 8-in. in dia.

For ease of transport, Wood bolted the big pistol, which weighs 2,000 lbs., to a flat deck trailer.

"When it's going down the road, it's over 8 ft. off the pavement, so people can see it coming towards them as we meet. There are many who can't believe what they've just seen so they turn around to catch up to us for a better look," Wood says. "I always say, oh, here come the paparazzi. It's a lot of fun."