Round Baler Runs "Backwards"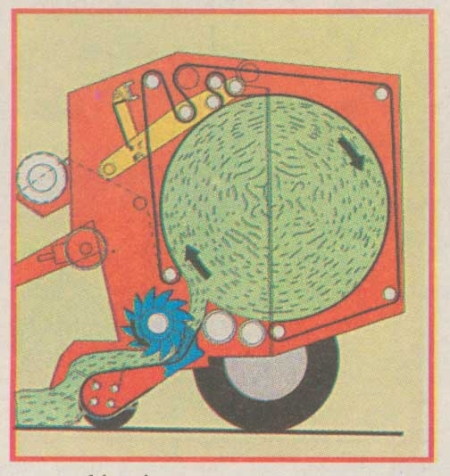 The new Welger RP rolls chopped forage in the opposite direction as conventional balers, keeping the belts in contact with the upper -- and drier -- side of the windrow so they stay clean and don't plug up.
The problem with new round bales that chop hay on-the-go, as it enters the bale chamber, is that it often gums up the belts. The Welger baler has a chopper mounted right behind the pickup. Chopping hay and straw makes denser, heavier bales. High-moisture forage bales are usually bagged or wrapped.
A pto-driven gearbox is used to split the power drive system between the bale chamber and the chopper. If the chopper ever plugs up, the operator can reverse the direction of the chopper head without affecting the bale chamber. Hydraulic tighteners are located in the space between belts to improve the lateral seal. The bale tying chassis is mounted on a sliding drawer system making it easy to access at operator height without the need for a step.