Livestock Shelter made From Old Tires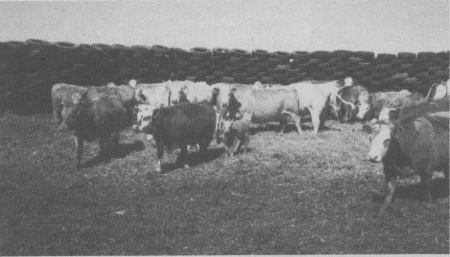 "We use large truck and industrial tires to build stock shelters to protect cattle from wind and snow," says Ed Storch, Mannville, Alta.
He makes the 10-ft. tall fences by stacking tires 10 to 12 high in an inter-locking pattern. He made one circular shelter nearly 300 ft. in dia. with an opening on one side.
"When it storms the shelter gives them almost as much protection as they'd have in a barn," says Storch. He feels his tire shelters are not fire hazards and any water that gets inside "boils" away in the sun so he hasn't had problems with mosquitos, either.
Storch also makes stock feeders and water troughs out of industrial tires.