Eye-Catching New Fruits, Vegetables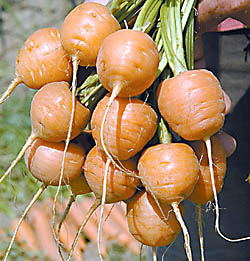 Looking for unusual fruits and vegetables to attract customers to your roadside stand or farmers market stall? Or maybe you're just looking for something new to impress your family and friends? Check out some of these latest new offerings by garden seed companies.
Miniatures
Thumbelina carrots have been around awhile, but the miniature 1 1/2-in. dia. round carrots now have plenty of company with other miniature salad fixings.
Johnny's Select Seeds offers Elegant Claremont Mini-Romaine lettuce that's ready at 9 in. tall in just 46 days. Johnny's also has a couple of bright red lettuce varieties, Garrison and Red Rosie, that are ready in as little as 28 days. Samantha, a small, pointed-head savoy cabbage has excellent wrapper leaves.
Jung Seeds offers Cabbage Babies Triplet Hybrid, with 1-lb. softball-size green, red and savoy varieties ready in 60 to 70 days. Enjoy it along with Baby Star Romaine Lettuce. Supplement the salad with Little Sweetie Hybrid Muskmelon, softball size fruits that are perfect for a single serving.
Pinetree Garden Seeds offers a Watermelon Radish that will add sweet flavor and color to salads with its white skin, greenish shoulders and bright red interior. Small Miracle Broccoli saves garden space with compact plants just 1 ft. tall and 1 1/2 ft. wide. Dome-shaped 6-in. heads are tight with many flowerets.
Territorial Seed Co. brings back Mexican Sour Gherkin Cucumbers, a heritage seed with 1 to 2-in. fruits that look like mini watermelons with green mottled and striped skins. They can be eaten raw or pickled. Rocky Cucumbers, a new variety, is seedless, rich green in color and best harvested at 2-3 in. long for a one-bite treat.
Oversize & Colorful
Balance those mini veggies with some "wow" varieties.
Territorial Seed Co. offers Red Noodle Beans, 18-in., garnet stringless beans. They'll go nicely with Pinetree's bowling ball size Kossack Kohlrabi. Eat the leaves like collard greens and store the sweet vegetable up to a month.
Territorial adds color to the garden with its Touchstone Gold Beet, with bright orange skin and a golden interior.
The beets may color coordinate with Gurneys Seeds' Cheddar Hybrid Cauliflower. The cheesy-looking "curds" have 25 times as much beta-carotene as white cauliflower and a great flavor.
Most seed companies offer rainbow carrots. Henry Field's carrots range in colors from white to purple that hold their color when cooked.
For end-of-the-season color, Jung offers spooky pumpkins. Batwing Mix Pumpkins are bicolor in dark green and orange when harvested early for decorative ornamental pumpkins. At 20 lbs., One Too Many Pumpkins have a strange appearance with white shells painted with red midribs and stippled veins. With a little imagination, they look like bloodshot eyeballs.