Electric Cattle Guard Floats In The Air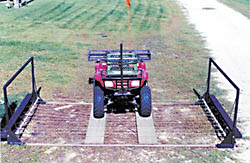 Install Evan Rayl's electric cattle guard and forget about opening gates. Tied into an electric fence, the "hot" cattle guard floats a few inches above the ground. It's high enough to stop livestock, but not so high as to snag on passing equipment.
One problem with traditional cattle guards made from concrete and pipe is the time and materials needed to build them. Also, over time they can fill in or bend under load if not built strong enough. Rayl's design overcomes these problems and is lightweight and easy to install. It's ideal for temporary use with moveable pasture fencing, as well as for permanent installations.
The gate consists of two 6-ft. long rigid sidebars made from 1-in. steel tubing and a 2 by 4 connected to 3-ft. tall uprights made from steel tubing.
Lengths of rigid gas pipe insert into the feet of the side uprights to stabilize and maintain a distance between the uprights of about 10 ft.
A web of eleven 10-ft. long, 1/8-in. cables are strung across the opening.
"The cables have about 7 in. clearance from the ground, which is good for most types of equipment," says Rayl. "ATV's generally have less than 7 in. clearance, so I place two 2 by 12-in. boards under the wires. This reduces clearance to only 5 in., allowing ATV's to pass over with no problem."
Rayl says the cattle guard requires little maintenance. Livestock that try it pull back after touching the first wire.