Outside Insulation For Upright Silos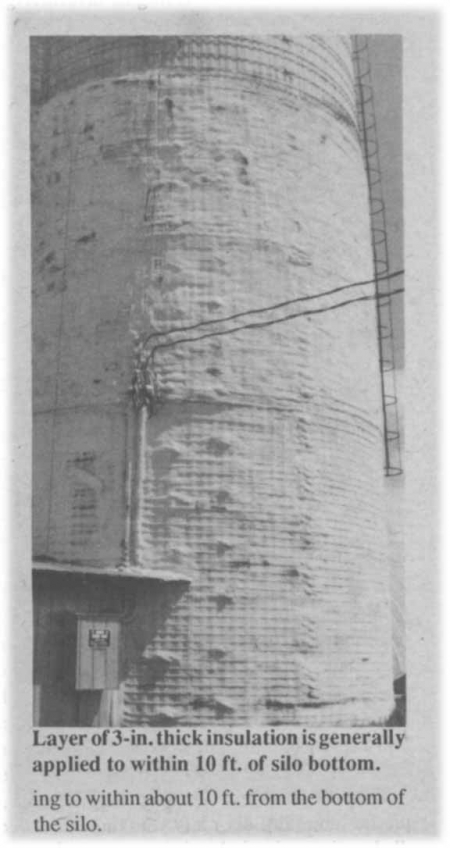 A new tower silo unloader costs tens of thousands of dollars and, in "north country" where freezeup in below zero weather is a problem, lasts seven years if the owner is lucky. When 1 1/2 to 2 ft. of haylage is frozen solid along the inside walls, you can imagine how slowly the silo unloader chips away at feed as it dances on top of frozen material.
To help solve the problem, some Canadian farmers have invested money to insulate the outside of their upright conventional silos with a 3 in. thick layer of plastic spray-on foam insulation. The objective: To make the silo unloader last twenty years instead of seven.
The first insulated tower silo project in Ontario, initiated in 1979, was partly funded by the Northern Ontario Agricultural Development Incentives, Program. I recently surveyed the farmer-owners of 25 additional tower silos in the area which have been similarly insulated on the outside in the past eight years.
All of the silos ranged from 20 to 24 ft. in dia. Insulation cost ranged depending on when it was done and how many jobs the contractor had in the same area at any one time. All the insulation jobs, except the first one, were done by the same contractor from Southern Ontario, although many contractors exist who are willing and able to insulate silos.
After treatment, none of the insulated silos surveyed had ever had more than 2 in. of frozen haylage along the inside walls and even this was often described by the owner as being "soflty frozen material".
The obvious benefit in spraying plastic foam insulation about 3 in. thick on the outside of a "north country" silo is longer life of the silo unloader, but there are other advantages. Outside insulation forms an airtight seal which improves preservation of haylage. However, all well built silos make good haylage so few farmers notice any difference in feed quality.
Insulation is sprayed on in warm, dry weather and generally is applied part way down from the top of the silo, corresponding to the level of haylage in the silo at the time when freezing weather arrives, and continuing to within about 10 ft. from the bottom of the silo.
In some cases, insulation is continued all the way to the base of the silo. If that is done, cattle must be kept away because they'll chew off insulation right down to the concrete as high as they can reach. To protect the insulation from ultraviolet light deterioration, it's coated with a thick, strong paint. The paint must not only resist sunlight and weathering but must also discourage birds from pecking into the insulation. Birds will try it in whatever place they find a perch and the attack is persistent.
One of the limitations of tower silo insulation is that the silo hoops can't be tightened after insulating.