Auger Mower Cuts Without A Sickle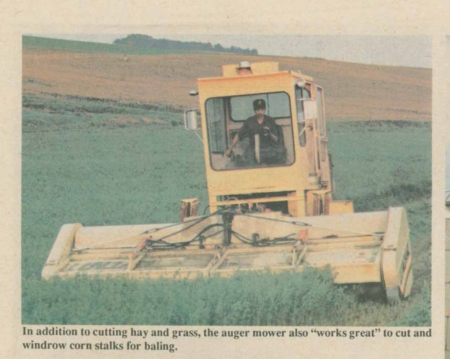 That "cow's teeth" auger mower we told you about 3 years ago that uses an auger with flighting-mounted teeth to cut hay is now on the market.
"We've got all the bugs worked out and we're ready to go into production," says inventor Cordell Lundahl, noting that there were some problems with earlier models that had teeth cut directly into the flighting. He says the new model is fitted with free-swinging 2-in. oval cutting teeth that work their way through even the heaviest hay crops and aren't bothered by dirt or rocks.
The belt-driven 12-in. dia. cutter auger eliminates all conventional sickle sections, guards, and drives. It cuts hay with a "rip cut" that Lundahl says conditions the crop, and then feeds it to the center and out the back in a side-by-side double windrow. Dirt doesn't bother the hardened steel pivoting teeth so you can cut right through gopher mounds with no problems. The teeth bend back when they hit a rock.
"You can go 6 mph in heavy grass with a 14-ft. mower. Mounts on either a self-propelled swather or the front of a tractor with a hydraulic power pack or a special pto we've built that routes the pto shaft up alongside the tractor to the mower on front. We also have a swing-type model that tows behind the tractor," says Lundahl.
The cutter auger spins at 2,200 to 2,400 rpm's. A 14-ft. model requires a 90 hp tractor. The short stub augers behind the feeder auger fluff the hay as it feeds it out into a side-by-side windrow. In addition to cutting hay and grass, the auger mower also works great to cut and windrow cornstalks for baling, says Lundahl. "That's a job that's nearly impossible to do with any other mower," he notes, adding that the auger mower can also be used as a "tedder" to flip the windrow, if needed.
The specially-hardened 1/4-in. thick steel teeth can be reversed as one side wears. "The savings in replacement sickle bars alone is tremendous," says Lundahl.
The auger mower will be "priced competitively" with same size conventional mower-conditioners.