Past Articles from FARM SHOW Newsletters
FARM SHOW's FREE Newsletters include new articles that have NEVER been published before in the magazine, past favorites from our huge Archives plus our popular Shop Tip & Video of the Week, Liberty Quotes, Jokes and delicious Recipes to try!
SIGN-UP today to start receiving our Newsletter, which also includes Subscriptions Offers and Special Discounts on our popular Books, Encyclopedias and Collections.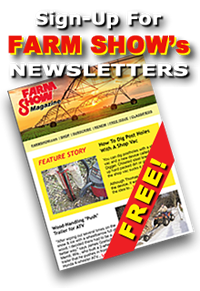 May 2019
NEWSLETTER Vol. 29 - May 11
Tractor Converted To Remote Control
Stand-Up 4-Wheeler Offers "Lots Of Fun"

April 2019

NEWSLETTER Vol. 28 - April 27
Hybrid Tractor Combines Deere And IH Models
Thin-Wheel Sprayer Built For Cut-Down Plants
Restored 830 Deere Has A V-8 Diesel
SHOP TIP OF THE WEEK - The ProGrabit Extraction Tool
Old Combine Made Into Self-Propelled Baler
Iowa Couple Saves 1881 Grain Elevator
Mini Dump Bucket Mounts On Forklift
SHOP TIP OF THE WEEK - How To Tile A Shop Floor


March 2019
NEWSLETTER Vol. 26 - March. 30
Camera Keeps Cultivator On Row
Restored Windmill Big Hit At Show
SHOP TIP OF THE WEEK - Uniburr Tool Bit


NEWSLETTER Vol. 25 - March. 16
SHOP TIP OF THE WEEK - Canola Oil To Lube Chainsaws


Gull Wing System For Dual Tires
Mini B Powered By Big Flathead V-8
SHOP TIP OF THE WEEK - 5-Ft. Long Grease Gun Hose Extension
February 2019
Jail Cell Built Inside Barn Protects Collectables
SHOP TIP OF THE WEEK - Rolling "Tractor Seat" Shop Chair


Turn Your Lawn Mower Into A Rototiller
Cultivator Shanks Used To Build Grapple Fork
SHOP TIP OF THE WEEK - PTO Wrench Speeds Equipment Hook-Ups
January 2019
How To Cover 6 Acres With Bird Netting
Traveling Trees Spend Winter In A Barn
Shop Vac-Powered Water Removal
SHOP TIP OF THE WEEK - Portable Air Compressor Built On Riding Mower Frame
December 2018
Mini Gooseneck Built For Polaris UTV
Drop Trap Catches Entire Wild Hog Herds
SHOP TIP OF THE WEEK - Weed-Eater Lines Addes To Mower Deck Blades
Shop-Vac Supplies Vacuum Power To Row Crop Planter
Improve Deere Grain Drill Performance
Frame Kit Evens Out Planter Weight Distribution
Small Planters Equipped With Lever Lift System
SHOP TIP OF THE WEEK - Reinforcement For Sprayer Mounting Arms

One-Man Firewood Processor Mounts On Skidsteer
Pickup Blade Keeps Driveway "Grader Smooth"
Greenhouse Designed For Minnesota Winters
SHOP TIP OF THE WEEK - Giant Lazy Susan Makes Tools Easy To Find
November 2018
Fast-Moving "Bale Bus" Stops Traffic
Bus Converted To 3-Ton "Pickup"
Giant Snow Blade Made From Old Grain Platform
SHOP TIP OF THE WEEK - Air Tank Bumpers


October 2018
"Snow-Mower" Fools John Deere Lovers
Blacksmith Hand-Forges Old Garden Tools For Modern Uses
Utility Vehicle Rolls Out Bird Netting
SHOP TIP OF THE WEEK - Heavy-Duty "Buster" Clears Clogged Grease Zerks


September 2018
Self-Propelled John Deere BBQ Grill
Giant Pumpkins Attract New Customers
All Purpose Grader Turns On A Dime
SHOP TIP OF THE WEEK - Clever Way To Split A Tractor Apart for Repairs
BEST BUY of the MONTH -The Power Rack - One-Man Big Baler Feeder
Old Cultivator Shanks Used To Build Grapple Fork
SHOP TIP OF THE WEEK - Engine Block Makes Sturdy Workbench Base
SHOP TIP OF THE WEEK - Sturdy Tractor-Mounted Chain Box
Combine Snowplow Doubles As A Bale Mover
15-Piece Tractor Train Is A Big Hit At Iowa Parades
Tow-Behind Harvester For High-Value Crops
August 2018
Portable Greenhouse Goes Where The Heat Is
Best Hunting Dog You've Never Heard Of
They Built Their Own Doodlebug
Handy Tool-Mounting Bracket For Pickups

July 2018
Build Your Own Cement Block Swimming Pool
He Turned His Riding Mower Into A Giant Weed Eater
Hoop House Glides Open and Closed

June 2018
Riding Mower Converted To Log Splitter
How To Add Duals To Your Garden Tractor
Half-Sized Bales, Sell Like Hotcakes!

Want to Read More?
Recieve FARM SHOW's unpublished stories & archived favorites delivered directly to your inbox!
CLICK HERE to Sign-Up for FARM SHOW's NEWSLETTERS!
Want even more FARM SHOW?
CLICK HERE to Subscribe to FARM SHOW Magazine!