Deep Band Fertilizer Rigs
Delmar Kirk of Hamiota, Manitoba, and Harold Warkentin of Tofield, Alberta, built their own low-cost deep band rigs from used equipment by mounting fertilizer boxes on top of deep tillage implements. They say deep banding.cuts fertilizer use by more than a third with no change in yields.
Kirk mounted a 12-ft. wide fertilizer box removed from a Massey Ferguson model 63 seed drill on a 12-ft. Graham Hoeme chisel plow.'"I built it because I got tired of paying someone else $6 per acre to deep band for me," says Kirk. "I spent less than $1,000 to build my deep band rig, including the $300 I paid for the chisel plow and $500 for the fertilizer box. It paid for itself in the first 300 acres. The only limitation is that the fertilizer box is too small. I can cover only 9 acres before I have to refill."
Kirk laid two 12-ft. long, 2 by 10 planks together on top of the chisel plow frame, then bolted the fertilizer box to the planks. As the main hydraulic cylinder lowers the plow to the ground, a small hydraulic slave cylinder uncovers the box's feed openings. Flexible tubing runs from the openings down along the back of the shanks to banding tips bolted on behind the shovels. Kirk made the banding tips by cutting off short lengths of 1-in. dia. pipe removed from a broken auger shaft. The fertilizer box's drive wheel, removed from an old Chevrolet car, is mounted on a shortened-up axle from a Versatile swather. The drive wheel mounts on one end of the frame and runs off one of the wheels.
Warkentin mounted a 28-ft. Barber fertilizer spreader on an old 36-ft. Ed-wards rod weeder. He rebuilt the frame to form two separate 14-ft. wide units, then mounted a 14-ft. long fertilizer box on each unit. He pulls a 28-ft. hoe drill be-hind the deep bander, allowing him to deep band fertilizer, rod weed, seed, and pack (with the hoe drill's press wheels) all in one operation.
"It cost only $1,500 to build and works as well as any commercial deep band rig," says Warkentin. "The fertilizer boxes on most commercial deep band rigs sit 7 ft. off the ground so it takes a 6-ft. high drill fill to fill them. The top of my fertilizer boxes is only 5 ft. high - the same height as the drill so they're both easy to fill. I had been broadcasting fertilizer, but I wasn't getting the crop yields that I wanted. Deep banding is a more efficient way to use fertilizer and my system saves field trips, conserving soil moisture. I've cut back 30 to 40% on fertilizer volume without any yield loss."
The shanks are arranged in two rows 16 in. apart. The shanks within each row are 32 in. apart, but are staggered to leave 16 in. openings. Warkentin used 4-in. square tubing to build the 14-ft. wide , frames. The rod weeder's transport wheels ground-drive the fertilizer boxes. He attached a rope to the hydraulic lift cylinders on each unit which allows him to disengage the fertilizer box drive shaft after he raises the shanks out of the ground. The fertilizer boxes are equipped with feed openings spaced 6 in. apart. Warkentin uses 10 in. collector spouts to gather fertilizer from every two openings. Fertilizer is directed through 1 1/4-in. flexible tubing to the shanks. "The hoe drill that I pull behind the bander is on 8-in. spacings so the fertilizer band is never more than 4 in. from the seed," notes Warkentin. "The fertilizer box is equipped with a complete range of application settings and an acre counter which takes the guesswork out of application."
The original fertilizer placement boots had a bend in them which sometimes blocked fertilizer. Warkentin rebuilt the boots to make them straight. To transport the deep bander and drill he removes bolts to separate both the deep bander and drill into four 14-ft. long sections which he pulls one ahead of the other behind his tractor'.
Contact: FARM SHOW Followup, Delmar Kirk, Box 224, Hamiota,'Manitoba, Canada ROM OTO (ph 204 764-2054) or Harold Warkentin, Box 538, Tofield, Alberta T0B 4J0 (ph 403 662-2617).
Photo of Warkentin's rig courtesy Grainews.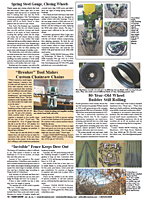 Click here to download page story appeared in.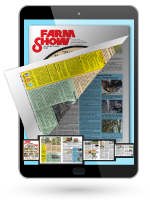 Click here to read entire issue
To read the rest of this story, download this issue below or click
here
to register with your account number.