Attorney: IH Tractor Design Could Cause More Accidents
Two farmers involved in International Harvester Farmall-656 tractor accidents two days apart may not be the last farmers injured as a result of the tractor's design, according to Larry Rietz, an Owatonna, Minn., attorney for the farmers.
"These products were defective when they were manufactured, and they're just an accident waiting to happen," Rietz said.
Lloyd Veer, 59, Walhalla, N. Dak., recently settled out of court for $1.5 million after a 1985 tractor accident that left him unable to work.
Wayne Klapperich, Faribault, Minn., also settled out of court for $200,000 after a similar accident that put him in the hospital for 21 days.
International Harvester made about 21,000 of the gasoline-powered tractors involved ù model F-656 ù from the early 1960's until 1971, Rietz said.
The design of the tractor is defective, Rietz alleges, because the gas tank is above and behind the engine.
When a tractor engine is worked in the field for a long period of time, its manifold gets red hot. A gas tank above and behind the engine will be subjected to too much heat, Rietz said.
Many of the tractors are still in use. "I would say thousands of them are out there today. And the problem doesn't just involve the F-656," Rietz said. "It also involves some of the other gas-powered IH tractors manufactured up until 1971."
The last 4,000 units of the F-656 manufactured had a heat shield-insulation package on them, Rietz said. That package consists of a piece of fiberglass between the heat shield and the fuel tank.
Bill Greenhill, director of external communications for Chicago-based Navistar, formerly known as International Harvester, refused to comment about the out-of-court settlements or allegations that the lH F-656 is unsafe.
Navistar sold its tractor lines to J.I. Case in 1985 and no longer builds or distributes tractors.
However, Greenhill said that IH made a sincere effort to correct the problem of pressure in the fuel tanks back in the 1970's, when the problem became apparent. He said fuel tank caps that would release pressure and prevent geisers of fuel were distributed and made available without charge to owners of the gasoline tractors. The cap replacement program was advertised through dealers and by other means, he said.
Rietz said he was unable to document an accident on a F-656 tractor that had the insulation package installed. But the insulation package was never offered to owners of F-656 tractors that did not have the package as original equipment, he said.
As part of the cap replacement program, IH encouraged dealers to have tractor owners install the heat-shield insulation package whenever it was available.
But no specific warning told farmers that they had better get the package on their tractors, he said. "In my opinion, the accidents would not have happened if this insulation package had been installed on those tractors," Rietz said.
The Rietz law firm has a list of more than 100 people in previous accidents' involving fuel-geisering incidents with International Harvester's gas-powered tractors, he said.
The accidents with the tractors have several common factors Rietz said, such as:
• The operator operates the tractor for approximately an hour and a half to two hours on the day of the accident.
•The farmer usually starts out with a full tank of fuel.
•Many of the accidents occur in the early spring or in the fall.
The last factor involves the use of winter-grade gasoline, which is more volatile than summer-grade gasoline, Rietz said.
"International Harvester feels that this problem is greatly due to, the fact that volatility of gas has been increasing over the years," Rietz said. "In the course of these cases, it has been customary for them to countersue the fuel companies who provide the fuel."
Despite the out-of-court settlements, International Harvester does not admit guilt ù which is customary in this type of settlement, Rietz said.
Greenhill, at Navistar, said he knows of no company plans to warn farmers of a possible fuel tank safety hazard or to provide heat shields or caps.
David Brukardt, spokesman for Case-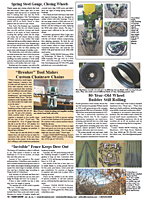 Click here to download page story appeared in.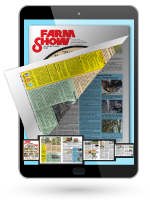 Click here to read entire issue
To read the rest of this story, download this issue below or click
here
to register with your account number.