Fuel Maker Turns Old Tires Into lLogs
A Minnesota farm machine shop operator heats his home and shop with fire "logs" he makes from old tires processed in a one-of-a-kind hydraulic-powered tire "fuelmaker".
Arnie Hoppe, Miltona, Minn., also sell tires for fuel to other farmers who, like him, burn them in a specially-built outside furnace that burns with "less smoke than an efficient wood burning stove or furnace."
Hoppe charges tire shops, auto parts stores, and garages a fee to dump used tires on his farm. Then he runs them through his "Super Clipper" hydraulic-powered tire cutter. It uses a hard-surfaced, blunt-edged blade pushed by a 4-in. hydraulic cylinder through a slot in a cutting table to cut through the tire sidewall. A small piece of tire is punched out with each "cut". A 28-hp. Allis Chalmers combine engine powers hydraulics which push the cutting arm through the tires. It takes just 10 seconds or so to cut a car tire into 3 sections.
Hoppe turns the sections into tire "logs" by fitting them one inside the other, slipping as many as 12 sections ù equivalent to 4 tires ù into a space 1/3 the size of an uncut tire. The solid block of rubber easily fits into stoves and burns from the outside like a wood log.
"If you feed tires into a stove without cutting them up they burn too hot because of all the air space in and around them. Turning them into logs slows the burn down to a more manageable level," explains Hoppe.
Cut-up tires slip together quickly during the cutting process. Hoppe can cut up to 1,000 tires per day working alone. Once cut and stacked the tires take up only a fraction of the space of uncut tires. One cut-up stack of 2,000 tires in Hoppe's yard, for instance, is about 6 ft. high and fills an area only about 10 ft. by 10 ft.
"We sell pickup loads of tire logs for about $50. That's the equivalent of 3 to 4 cords of wood," says Hoppe, who heats both his welding shop and house with tires burned in an outside "Aqua Therm" furnace. Hoppe says the Aqua Therm is ideal because the entire firebox is surrounded by a 46-gal. capacity water jacket that draws off the heat from the firebox. Before Hoppe found the Aqua Therm furnace (Aqua Therm, Box 281, Brooten, Minn. ph 612 346-2264) he tried stoves with firewalls as thick as ¢ in. that still warped when exposed to the high heat of burning tires.
Olav Isne, sales manager of Aqua Therm, told FARM SHOW, "You can burn tires in our Aqua Therm outside furnace without any modification whatsoever. Tires actually give off less smoke in our furnace than cut-up railroad ties. And, because the firebox is surrounded by a heat-absorbing water jacket, it easily handles even the hottest temperatures."
Hoppe added an "afterburner" to his Aqua Therm furnace. It consists of a small burning chamber that mounts on top of the furnace and is also wrapped by a water jacket. A small oil-burning nozzle creates a small flame that ignites the heavy tire smoke that comes up out of the Aqua Therm burning chamber. The smoke is ignited in the afterburner so that almost no smoke goes up the chimney. Heat is absorbed by the water in the water jacket and circulated through underground pipes to radiators installed in Hoppe's shop and home.
"We get less smoke out of the chimney than an average wood stove, although there's some heavy smoke when you first light the fire. During all of last winter the stove used just 12 gal. of fuel oil to ignite smoke in the afterburner," says Hoppe, who's currently working on a second model of his afterburner to eliminate the need for a fuel oil burner.
For more information, contact: FARM SHOW Followup, Arnold Hoppe, Hoppe's Welding, Rt. 2, Miltona, Minn. 56354 (ph 218 943-6311).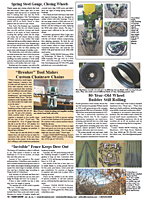 Click here to download page story appeared in.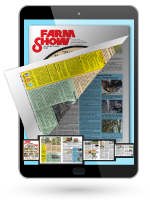 Click here to read entire issue
To read the rest of this story, download this issue below or click
here
to register with your account number.