Underground System Provides Free Heating, Cooling
"It works great," says Paul Hansel, Dalton, Minn., do-it-yourselfer who uses underground pipes to cool and heat his house for a fraction of the going rate with conventional equipment.
He designed and built a system of 6-in. pipes underground-8 ft. down and 125 ft. long - and pulls air through them and on into his house. The constant year-around temperature of the ground - about 50? to 60? - cools the air in summer, warms it in winter.
"The system is especially suited for keeping the house cool in the hot summer months," Paul told FARM SHOW. "Cool underground air is brought directly into the house. "The hottest day we've had since I put the system in was close to 100? outside. On that day, temperature of the air coming from the cooling system was 79?."
Humidity in the house has not been a problem. Generally it runs 10 to 15% lower than the outside summer air, says Paul.
In winter, he pipes air into the crawl space beneath his 22 x 26 ft. 2-story house. Doing so not only solved a problem he'd been having with frozen water pipes in the crawl space, but helped warm the house by sending supplemental heat up through the floor.
The accompanying drawing shows how Hansel's system is built. Air comes in through a rotating air scoop, mounted on an above-ground housing. When the wind isn't blowing sufficiently, a fan inside the housing does the work. The air then travels through the 125 ft. of underground pipe and on into the house. A furnace filter in the housing screens out birds and bugs.
"The system isn't expensive. You could build it for less than I did," says Hansel. He spent $750, most of which was for the pipe, and for digging with a backhoe, which he hired done.
Hansel speculates that his system is equivalent to a 20,000-BTU furnace, and that it saves 20 to 30% on his winter heating cost.
The first summer, from June to October, a test meter was hooked to the auxiliary fan to determine the actual amount of electricity used. Total cost was $33.60, or $8 a month.
Hansel used flexible plastic pipe, which was perforated to let condensation out into the soil. He feels, however, that about any type of pipe - concrete, metal, or plastic - would work. Moisture condensation in the pipe must be considered, he cautions. "If non-perforated pipe is used, which would be appropriate where ground water might be a problem, a sump pump to pull off condensation water should be installed."
Hansel feels pipe diameter is not critical, but 6-in. pipe has worked well for him. The important thing, he feels, is to calculate the pipe diameter so that you expose about 1 sq. ft. of pipe surface to the earth for each sq. ft. of space you intend to cool or heat. A quick formula for figuring how much pipe to use is about 6 lineal ft. for each sq. ft. of area in your house.
As for air volume, about 200 cu. ft. per minute is about ideal. More than that will not allow enough time for the air to be exposed to the inner pipe surface. Maximum pipe length should not exceed 150 ft. for 6-in. dia. pipe. He buried the pipe 8 ft. in the ground. "It shouldn't be any shallower and could be a bit deeper."
Ground odor has been no problem at all. He also has had no trouble with bugs or mice coming in through his underground system.
A fact sheet and plans are available for $8.50. FARM SHOW Followup, Paul Hansel, Dalton, Minn. 56324 (ph 218 589-8944).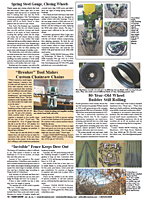 Click here to download page story appeared in.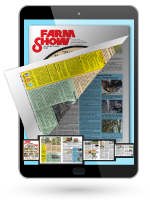 Click here to read entire issue
To read the rest of this story, download this issue below or click
here
to register with your account number.