Power Unit From Car Engine
"I needed a way to pump liquid manure from my lagoon without tieing up a tractor, says Randall Morrison, who says he found the ideal solution by mounting an old car engine and transmission on the frame of a junked-out, pull-type tobacco harvester to make a portable power unit.
The mobile power unit can also be used to pto-drive any type of stationary equipment including grain augers, irrigation pumps, hammermills, etc.
Morrison bought a 1971 Ford LTD from a neighbor for $150 and pulled out the car's 351 cu. in., 8-cylinder engine, automatic transmission, driveshaft, radiator, alternator, and gas tank. He shortened the driveshaft and welded a male pto spline (removed from an old fertilizer spreader) onto it so that he could connect it to a standard pto shaft. The spline is supported by a pillow block bearing. He mounted the fuel tank overhead. Fuel is delivered by gravity to the engine. An aftermarket key switch and manual throttle cable are mounted just below the fuel tank.
"It completely eliminates the need for a tractor and cost little to build," says Morrison, who put the unit together three years ago for less than $250 total. "I use it mainly to pump chicken manure out of my lagoon and into a truck. I haul manure three or four days a week, every week of the year,and the water-cooledengine will run all day long without getting hot. I had been using a 150 hp tractor to operate the pump, but I needed the tractor during hay and silage season and couldn't justify spending the money for another tractor. A commercial stationary diesel engine power unit with the same horsepower rating would probably cost $3,000 to $4,000 and would be difficult to use for other jobs.
"The car transmission operates in the opposite direction as the tractor pto so I have to put it in reverse to operate the pump. If the pump plugs up I can unplug it by simply putting the transmission in forward. I haven't had any problems with it at all. The rails of the tobacco harvester frame were almost the same width as the car so I was able to fasten the original motor mounts to it. I mounted a set of gauges on the frame to monitor oil pressure, water temperature, and alternator output."
The car's exhaust system was worn out so Morrison made his own dual exhaust system. To make the exhaust pipes go upward, he switched the exhaust manifolds around so they're on opposite sides, and then fitted them with muffler pipes that run up above the engine. He also mounted a cover over the unit to keep water off.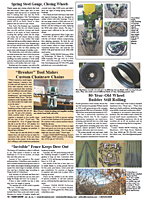 Click here to download page story appeared in.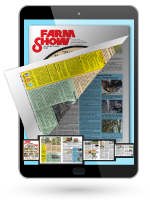 Click here to read entire issue
To read the rest of this story, download this issue below or click
here
to register with your account number.