New Hotline For Inventors
Got a new invention you'd like to tell the world about ù without having to invest a lot of money and worrying about getting "ripped off"?
For $100, you can list your "brainchild" with Technotec, a new world-wide "yellow pages of technology" which has been launched by Control Data Corporation, headquartered in Minneapolis, Minn.
"We think farmer-inventors can benefit tremendously from this world-wide exchange of inventions and other new technology," William C. Norris, chairman and chief executive officer, told FARM SHOW.
Norris emphasizes that Control Data, which boasts a one billion dollar CYBERNET network consisting of more than 5,000 computer terminals in more than 150 cities in 15 different countries, is equipped to handle the new world-wide technotec program with existing facilities. Technotec puts a farmer-inventor in touch with a prospective manufacturer or investor; the parties themselves work out the details. Control Data does not collect any royalties or commissions ù just the $100 fee that inventors pay to have their inventions listed, and the "search" fee ù about $10 per search that companies or individuals pay to search the Technotec data bank for new inventions and ideas.
Norris points out that "the wheel is being re-invented every day throughout the industrial world." He considers this to be a waste and feels that "better use of our technology would enable us to find solutions to the world's most urgent problems."
As a result of this conviction, Control Data is promoting its world-wide "hotline" for marketing new technologies: Someone who develops a new product, technique or service can list it on the Technotec data base. Someone looking for that particular product, technique or service can search the data base. If a match is made, contact can then be made. Object: A meaningful economic relationship.
Does it work?
You bet. Soon after the service was launched, for example, Jim Decker, of Modesto, Calif., listed a new freezeheat peeling process for fruits and vegetables. Within a few months, he had negotiated licenses for the new process in Norway, Poland, Spain, Japan and the United States.
Ed Harvey, of Arlington, Va., an electrical engineer, searched Technotec for queries on woodworking. He found that a group of woodworkers in Caracus, Venezuela, were seeking a process for bending wood without its splitting or cracking. He was able to supply technology the Venezuelans needed and collected several hundred dollars for his efforts.
This is what Technotec is all about ù matching a new technological process with a potential user. Companies with terminal computers can plug right into the Technotec system direct. If no terminal computer is readily available, you can phone Technotec headquarters and they'll run the search for you.
To date, the system has about 20,000 subscribers, including farm equipment manufacturers who routinely search the system for new inventions and ideas. Suppose, for example, you've invented a revolutionary method of threshing grain and wanted to use Technotec to get in touch with prospective manufacturers throughout the world. You'd use a series of code words to describe the invention, such as farm machinery, combine, harvesting equipment, food processing, grain threshing, rotary cylinders, wheat harvesting, corn harvesting, and so forth.
A company or individual searching Technotec for new inventions would use one or more of these same code words to "intercept" and learn about your new idea.
Your invention can be programmed for world-wide exposure. If, because of patents or other reasons, you aren't interested in foreign inquiries, you can limit its Technotec exposure to North America.
Many inventors, companies or individuals with new ideas charge a contact fee of about $50 before disclosing their name and address. This "contact charge", which is paid to Technotec, allows the subscriber to qualify or restrict responses. For example, an individual with an idea for a first-of-its-kind hydrostatic tractor may not want to divulge his idea to existing tractor manufacturers. Or, he may want to talk only with existing tractor manufacturers.
For more details on the new Technotec services, call this toll free number (800 328-1870) or write to FARM SHOW Followup, Technotec, Control Data Corporation, 8100 34th Avenue, Box 0, Minneapolis, Minn.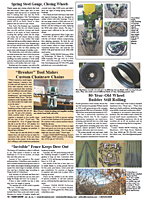 Click here to download page story appeared in.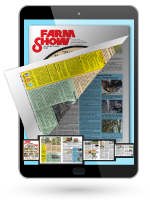 Click here to read entire issue
To read the rest of this story, download this issue below or click
here
to register with your account number.