New Raintrap Machine Prevents Runoff
"We think it has application to virtually any farm where runoff is a problem, whether dry land or irrigated," says Murry Edwards, president of Automated Farm Systems, Stockton, Calif., manufacturer of the new Dam Rain Trap.
In row crops, the device builds miniature dams spaced up to 121/2 ft. apart in each row to trap rain or sprinkler water. On rolling ground, the miniature dams may have application for "walking" water down hills to increase percolation and help reduce runoff and the soil erosion. And, the new device may be as applicable in fields planted to small grains or other solid-seeded crops as it is for dry land or irrigated row crops.
"It's not a new concept. Various types of damming devices have been introduced through the years, some going back a good many years," explains Edwards. "We think ours has two key advantages over previously introduced damming devices. Its method of operation is amazingly simple and thus requires very little maintenance. Also, our product is heavily built. We developed it to help area farmers solve runoff problems with rain or sprinkler water. Interest has been tremendous," Edwards told FARM SHOW.
He notes that Cortopassi Farms, near Stockton, has 24 Dam Rain Trap units in use and more on order for the approximately 10,000 acres involved in the farming operation. "They use the device to catch rain water after planting grain crops in the fall. The dams also prevent water applied by any type of sprinkler application
from running down the furrow and into the drains, and also prevents water from rolling ahead of the sprinkler machine, causing deep wetting of wheel tracks. Vista Verde Farms, near Stacy, Calif., had several Dam Rain Traps in use last year and has more ordered for this year," explains Edwards.
Each row unit consists of a 4 ft. dia. steel wheel, with a 16 in. cultivator shovel in front (to clean out the row or furrow) and a large 20 in. wide "Alabama" shovel behind which builds the dam. The wheel is equipped with a half moon shaped humper bar (see photo). Every time this humper bar hits the ground, it raises the wheel in peg-leg fashion. As the wheel raises, the rear damming shovel also raises to produce a dam. One humper bar per wheel produces dams 121/2 ft. apart. Dams can be built closer together by adding more humper bars to the wheel.
Individual units bolt onto any standard 21/2 in. sq, toolbar. "The units are heavy and it takes two men to roll them into position for bolting onto the toolbar," explains Edwards. "Some farmers use a cultivator in front and a toolbar with the Dam Rain Trap units behind. Others make a separate trip over the field to build the dams."
Depending on the crop, some farmers dam several times. Others dam at the final or layby cultivation. "With some close tolerance specialty crops, it may be necessary to go in ahead of the harvesting machine to rip out the dams. Generally, however, the dams will flatten out enough so harvesting equipment can be driven right over them without any problems," Edwards points out.
Cost of the Dam Rain Trap device is $275 per wheel or row unit.
For more details, contact; FARM SHOW Followup, Automated Farm Systems, Box 8600, Stockton, Calif. 95208 (ph 209-931-4442).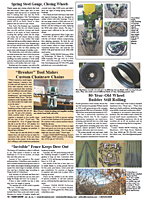 Click here to download page story appeared in.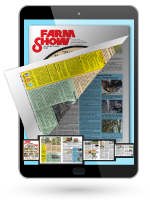 Click here to read entire issue
To read the rest of this story, download this issue below or click
here
to register with your account number.