These Hogs Think They're Horses
When John Gurtner and his wife Talitha go for a ride in the country, they attract a lot of attention. After all, it isn't every day you see a team of hogs all harnessed and hitched up like a team of horses.
John, who has been a hog farmer near Fremont, Ind., all his life, admits that he always harbored a secret desire to train a pair of them to drive.
"One day about 8 years ago I put a rope around a pig's neck to see if I could get it to lead like a dog," explains John. "Talitha helped me and we carried on the training process behind the barn. We didn't want neighbors seeing us and laughing if we weren't successful. It took us about 3 days to train the hog just to lead. The next step was to put a bridle on it. We discovered that a small pony bit works great. We were puzzled as to what to do for a harness and then happened to think of our local Amish harness maker. It was the first request he'd ever had for a set of harnesses for a team of hogs."
While the harnesses were being made, John bought another hog about the same size as his "trainee" at a local country auction. It, too, proved intelligent and John soon taught it to lead and then to drive with the other hog as a team, pulling a small wagon.
To his surprise, the hog team lunged forward in the harness and "took off like old timers" the first time they were hitched up, pulling the 350 lb, wagon with ease. They soon learned to respond to voice commands of "get up" - "whoa" - "gee" (turn right) and "haw" (turn left).
"We took them for a drive down the front yard the first time, then headed down the road," John recalls. "The neighbors could scarcely believe their eyes."
The Gurtners hadn't been driving the hog team more than a couple of weeks when they were asked to drive it in a local parade. "We hestitated, thinking the hogs might spook and we'd have a runaway hog team on our hands," John recalls. At the last minute, however, the Gurtners relented and decided to enter the parade, completely unaware of the fame and success that decision was destined to bring them.
When the parade was over, they were awarded the top prize and a huge trophy. They also received a number of offers to exhibit their hog team at other fairs and celebrations throughout Indiana. "We found ourselves in show business. One fair led to another and we have since traveled to parades, fairs, shows and celebrations in five different midwestern states since we entered that first parade with a hog team 8 years ago," says John.
Through the years, the Gurtners have trained about 20 different hogs to drive. If a hog's feet give out, or it refuses to pull the wagon anymore, it's shipped to market and a newly trained hog takes its place. The 20 trained hogs have represented all types - boars, guts, barrows - a wide variety of breeds.
At one time, the Gurtners trained a pair of mini-pigs to drive as a team. "This breed, which weighs only about 75 lbs. when full grown, has a small amount of European wild hog blood in them. They're very intelligent. At maturity, they have a large and hard ridge or muscle on each side extending over the front part of the shoulder," explains John. "We paraded with them for about two years before they got balky and we quit driving them."
The Gurtners currently have two trained sheep which have been on the "show circuit" with their team this past summer. One is an African Barbado and the other a 4-horn English Jacobs. The sheep can be driven as a team, or either one can be hitched to drive with one of the trained hogs. Latest new addition to the act is a goose which the Gurtners have trained to pull a small wagon.
The Gurtners transport their sheep and hog teams to fairs and shows in the back of a van. Behind the van they pull a house trailer which is their home away from home while on the road. "The hogs are housebroken like a dog. They will not urinate in their bedding like common hogs," explains Talitha. She adds that, "We've made a lot of friends with our hog team all over the midwest. Many times we are asked to return the following year. It's always an exciting year, packed wit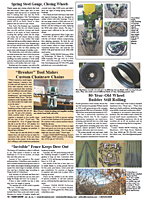 Click here to download page story appeared in.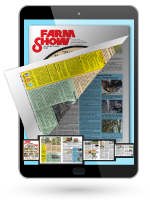 Click here to read entire issue
To read the rest of this story, download this issue below or click
here
to register with your account number.