Crop Drying Furnace Burns Corn Stalks
If you knew you could dry your entire corn crop with just 5 acres of cornstalks, would there be any reason to keep buying and using LP gas?
"Absolutely not," answers Greg Wieweck, Buffalo Lake, Minn., a Z7-year-oldfarmer with an engineermg backgroun w o appears ti have beaten just about everybody in the race to develop a practical way to #'ue1 crop dryers with corn stalks, straw and other low-cost residue.. He's designed and already tested a' crap residue burner that could well revolutionize the crop drying industry.
Last fall, he used his new stalkfired furnace to dry his entire corn crop (16,000 bu.) with one-tan stacks of corn stalks fed into the hugexthroat of the furnace, one at a time.
"I'm not experimenting," Wieweck told FARM SHOW. "This is the only crop-drying system I own and it's the only one I need. I've proved, at least to my satisfaction, that we can get steady, productive heat from stalks, straw and other crop residues. This burner will burn big round bales, square bales or trash - anything around the farm that's combustible. And, because it uses a heat exchanger, there's no contamination of the crop being dried with smoke, soot or other debris."
Wieweck used only 5 acres of stalks to dry his corn, which came in from the field at 24 to 25% moisture and was dried to about 13%. "Think what could be done with 200 to 300 acres of stalk residue. In addition tc drying all my crops, I could heat my barn, my house and have enough left over to distill alcohol for running my tractor and more."
Wieweck didn't start building his burner until last September, but had spent months working the design out on paper. A trained engineer who recently left industry to farm full-time, he says he knew, once he had the design drawn up, that it would work. "I couldn't believe that no one had done it before."
The burner combines a controlled burning chamber with a forced-air heat exchange system, meaning there are two layers to the furnace and chimney. Inside, residue burns and gives off heat. The heat passes through the inside walls to the second layer, completely sealed off from the burning chamber and filled with fresh air. That air heats up and is passed up the outside layer of the chimney and into the bin. Any smoke and ash exits through its own section of chimney outside.
It takes Wieweck "about a minute" to load the burner with a stack of corn stalks using his Hesston stalk mover. One stack will burn for seven hours - more than enough time to take out 10 points of moisture in 1,000 bu. of 24% moisture corn, says Wieweck.
Although his residue burner is built for his Stormor overhead bin dryer, he feels it will readily adapt to other bin drying systems. "I've already got plans for building a furnace for other types of bin dryers," says Wieweck, who has applied for a patent on his residue burning cropdryer. He figures he saved about $1,000 in fuel costs last year by using stalks to dry the 16,000 bu. of corn produced on his own farm. He invested $2,000 worth of materials into the residue burner and "countless hours of engineering."
Here's a closer look at how it works: Individual stacks of cornstalks (or straw or other crop residue) are loaded into the furnace and lit. If the fire isn't already burning, Wieweck uses a match, but says he would use propane to light hard to burn materials, such as moldy hay bales.
The furnace doors are shut and a small 1110 hp. fan mounted at the bottom of one door is started. It feeds the fire oxygen and is connected to a thermostat measuring the temperature of the air leaving the burner and entering the dryer. When that air reaches drying temperature, the fan stops, stopping the fire. Wieweck says the fan runs 30 seconds out of every 5 minutes to maintain a 120? temperature. Three sides of the burning chamber (everything but the doors) are covered with a secondary chamber, with 4 inches of space between. A high-speed 36 in. fan forces air into the secondary chamber, up the chimney and into the bin. The air is warmed by the fire inside which reaches temperatures of 1,500?.
Ash and smoke inside the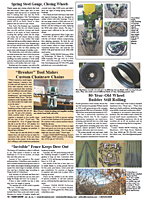 Click here to download page story appeared in.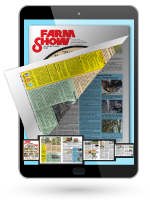 Click here to read entire issue
To read the rest of this story, download this issue below or click
here
to register with your account number.