They're Milking Sheep in Minnesota
Sheep milking is a two-fold experimental project at the University of Minnesota Experiment Station, Rosemount. While not new in the United States, it is a relatively young project.
Research is aimed at evaluating the genetic variation among and within breeds, while also developing the idea of an enterprise where milk is used for manufacturing purposes, such as for cheese, according to William J. Boylan, University of Minnesota professor of animal breeding and genetics. Were sheep farmers to become interested in dairy sheep it could provide an additional source of income, that of milk, besides meat and wool, he says.
Citing France as an example, Boylan feels dairy sheep have potential here also. In France, 65% of the income (from sheep) comes from milk and 35% from the sale of lambs and wool. "We import into this country each year 22 million pounds of cheese made from milk of sheep," Boylan points out. "The economics has not been well researched yet, but in the places visited in Europe, it appears to be very enterprising:
"We think, from the dairy standpoint, that farmers can produce a very high product with the expertise available in this country," says Boylan.
The project this year has 84 milking ewes, which were milked from April to early September. It's unusual and unnatural to milk sheep this long as a milking period normally is 16 weeks. The milk is taken from Rosemount to the University campus food science department where it's made into cheese. Yields so far have been more than a pound of cheese per pound of milk. The three cheese types made were a Feta, a Manchego and a Blue cheese.
It takes one to two minutes to milk a sheep. Production ranges from ¢ to 2 liters, depending upon stage of lactation and breed. Ewes are milked twice a day. The sheep milking equipment (Alpha, Lavar and Fullwood) is made in Europe.
The 1985 study includes 36 ewes from six breeds, Dorset, Finn, Lincoln, Rambouillet, Suffolk and Targhee, and 48 ewes from a four breed (Dorset, Finn, Lincoln, Rambouillet) mating design. Ewes are machine milked twice a day. In their second year of research at Rosemount, researchers have found a marked difference among ewes and in total production.
The Finn sheep used in this experiment are a new breed to the United States. They were first imported in 1968 and their main claim to fame is they have litters of as many as five to six lambs. The average is 3.2 lambs.
(Reprinted from Land magazine.)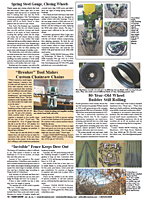 Click here to download page story appeared in.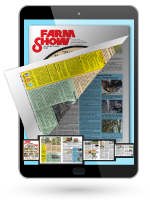 Click here to read entire issue
To read the rest of this story, download this issue below or click
here
to register with your account number.