Book Documents History Of Seed Corn Business
A new book that documents the history of the seed corn business and provides a fascinating look at how many companies got their start, has been published by a retired corn breeder, Curtis Norskog of Willmar, Minn.
The 250-page book, "Hybrid Seed Corn Enterprises: A Brief History" traces the origins of more than 500 seed corn companies (past and present) and lists over 3,000 producers of certified hybrid seed corn.
Norskog was a breeder with Pioneer Hi-Bred International at Willmar, Minn., for almost 35 years. After he retired in 1986, he continued to pursue his hobby of collecting corn memorabilia and was president of the Corn Items Collectors Association for three years.
"I wrote the book to preserve some of the history of the seed corn industry before it gets lost," says Norskog.
"Many seed corn companies were started by farmers who sold open-pollinated seed corn. Companies got their æfoundation' seed from state universities that were con-ducting corn research. A lot of companies were started by farmers during the Great Depression to supplement their incomes. Hybrid seed corn became popular in the 1930's because yield and standability were better than open-pollinated varieties. When you had to pick corn by hand, you didn't want to have to bend over and pick ears off broken-over stalks. It was quite a change."
Here are some seed corn company stories from Norskog's book:
• DeKalb Genetics: Researchers Tom Roberts and Charles Gunn began their in-breeding experiments in secret because they weren't sure DeKalb's farmer board of di-rectors board would agree with the concept. In 1933, DeKalb's first hybrid was introduced and it outproduced the company's popular Gunn's Western Plowman by 35 percent. Farmer demand for the seed was immediate. The drought of 1934 destroyed almost all of the first seed crop and only ingenious efforts to irrigate the research plots saved the precious inbred lines. The next year a successful hybrid seed corn crop was raised, and farmers got their first wide-spread look at hybrids.
• Beeghly's Hybrid: Milford Beeghly started producing hybrid corn in the 1920's after Henry Wallace had given him about a peck of hybrid seed corn to plant. He planted his first field in the back part of his farm so people couldn't see it and wonder "what he was up to". In 1994, when Milford was 96 years old, he was still planting a few inbreds in his garden and making crosses to see "what they would look like".
• Chester Hybrids: In 1936, George F. Chester started producing hybrid seed corn under the name Kankakee Valley hybrids. Charles Bowman and Orville Redenbacher purchased the company in 1951. At that time Redenbacher was manager of a large farm operation that produced hybrid seed corn and commercial popcorn under the name of Redbow Popcorn Hybrids (Red for Redenbacher and bow for Bowman). Be-cause Redbow Popcorn Hybrids became known for their quality, experts were hired for marketing the product. They recommended using Orville Redenbacher's name, which later became a household name for popcorn eaters.
• Henry Field's Seed & Nursery: Henry Field sold seed corn on the ear in-stead of shelled corn. He called his corn Mule Hybrid Seed Corn. Field said his hybrid corn, like the mule (which is hardier than the horse) "has more vigor, yields higher, and stands drought better" than either of the parent purebreds. Henry also introduced and popularized alfalfa. He would send along a few free alfalfa seeds with his orders and asked the housewives to plant them in their gardens where their husbands could see the plants grow and then could feed the alfalfa to cattle. Before long, alfalfa caught on and is now one of the main forage crops in the U.S. He also convinced farmers that sweet clover was a beneficial legume - not a weed - as was once thought.
• Funk Seeds International: Funk Seeds International was first called Funk Farms and was started in 1901 by E.D. (Gene) Funk and 12 members of various Funk families. In 1937, in Illinois state yield tests, Funk Farms had hybrid corn entries called the "B" series and "G" series. The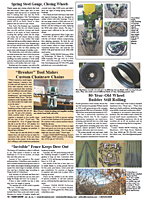 Click here to download page story appeared in.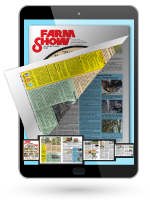 Click here to read entire issue
To read the rest of this story, download this issue below or click
here
to register with your account number.