Wind-Driven Tractor First Of Its Kind
HORSESHOE, PA. - A spectacular breakthrough in energy production was unveiled here this week when an Amish farmer, Emil Stoltzzug, successfully demonstrated the world's first wind-driven tractor. Stoltzzug's unique machine utilizes free energy (the wind), transforms it into useable power, and leaves absolutely no pollution. Theoretically and practically, the engine is so simple that energy specialists are wondering out loud why the idea hasn't been thought of before.
Stoltzzug claims that his engine is simple to make and not difficult to operate once the driver is accustomed to the dynamics of the system.
Components of the system are an air intake "funnel" which captures the wind. To increase the volume of air that can be accepted, inflowing air is cooled at the neck of the intake chamber and then sped along a linear acceleration channel. The air is then sent through a cyclical intensification unit which works on tha principle of natural oscillations of atoms generating intense power under concentrated conditions. This power is then fed to a turbine which drives the transmission.
Unlike internal cumbustion engines where a warm-up is generally required, the wind-driven engine invented by Stoltzzug requires a cooldown period.
The initial cool-down period is cccomplished by means of a batterydriven compressor. Once the airflow is established, the compressor runs with power siphoned from the main power supply line.
A mechanical valve is used to increase or restrict the flow of intensified wind. The used air is exhausted underneath the tractor.
According to Stoltzzug, his tractor is sensitive to very slight breezes. If a person could blow into the air intake constantly, he figures it would produce about five or six horsepower.
Because of the nature of his invention, Stoltzzug cannot park his tractor inside a barn, for the simple reason that it would be difficult to start. Outside, however, it will respond to even the slightest breeze.
Changing wind directions are no problem. The intake funnel can be rotated 285 degrees to catch the wind from most any direction. Stoltzzug figures that operating the tractor might be somewhat similar to sailing, where the seaman maneuvers ropes and booms to control the sails. One of the beauties of Stoltzzug's invention is that it could generate its own wind if forward speed is fast enough.
Although Stoltzzug's tractor has a very limited forward speed due to its iron wheels, he agrees that rubbertired vehicles probably could go fast enough to generate their own wind. He says he will leave this for others to prove.
Stoltzzug and energy experts agree that the wind driven motor has endless possibilities. Indeed, the device might well be America's answer to the oil sheiks.
Because of the magnitude of his invention, Stoltzzug expects to have a lot of inquiries about the wind-driven engine. He is thankful he doesn't have a phone, figuring that it would probably never stop ringing.
The Amish inventor said he intended to register his invention with the U.S. Patent Office tomorrow, Sunday, April 1, but added he might not bother to do that since the office will probably be closed on April Fool's Day.
EDITOR'S NOTE: If your first impression to the above story is "I don't believe it," you are 100% rights.Emil Stolzzug's wind-driven tractor is simply the figment of Dieter Krieg's imagination. Dieter, editor of Lancaster Farming magazine, originated and wrote the spoof story for his paper's April 1(April Fool's Day) edition. If you look closely, you'll see that the tractor's so-called air intake funnel is really an oil can with a coil spring over its spout. Our thanks to Dieter and Lancaster Farming for tickling our funnybone.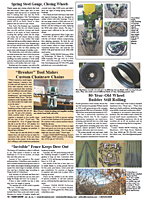 Click here to download page story appeared in.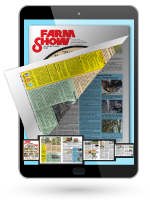 Click here to read entire issue
To read the rest of this story, download this issue below or click
here
to register with your account number.