Build A Barn In A Day With 44 Ft Panels
Business is booming for an Ohio firm with a "breakthrough" concept in confinement housing for hogs, beef cattle, dairy or poultry. It produces seamless, one-piece barn wall panels measuring up to 10 ft. wide and a whopping 44 ft. long!
"We took a popular, proven idea from the trucking industry and applied it to farm buildings. Initial response from farmers has been fantastic," says Bill Mathison, Vice President of Engineering for Cor-Tec, headquartered at Washington Court House in southern Ohio. The firm, a subsidiary of UMC Industries, is the nation's leading panel supplier for van trailers and truck bodies.
"Our ability to manufacture foam core seamless panels in such large sizes has created a great demand in the transportation industry. We think our product has the potential of becoming equally popular and dominant in the farm building market," Mathison told FARM SHOW.
Car-Tees new foam core farm building panels are available in widths up to 10 ft., and in seamless, one-piece lengths up to 44 ft. long. The "sandwich" panel is made up of two sheets of laminated plywood separated by a layer of polyurethane foam. The "outside" of both plywood sheets is totally sealed with a layer of polyester reinforced fiberglass and Gelcoat. Vertical.studs every 4 ft. are built into the panels for strength.
Individual foam core FRP (Fiberglass Reinforced Panels) panels are available in 1.5 to 5-in. thicknesses. "For most farm buildings, we're recommending the 3-in. panels which carry an R insulation rating of 16.2 Our 5-in. panel carries an R rating of
31," explains Mathison.
Suppose, for example, you purchased a Cor-Tec hog barn 120 ft. long and 40 ft. wide. Cor-Tec would deliver only eight "boards" to build all four walls. Each would be 8 or 10 ft. high, 40-ft. long, 3 in. thick, and would weigh approximately 1,350 lbs. An experienced crew using your tractor loader, or a crane, would set up the complete building in about 7.5 hrs., assuming you already had installed a poured concrete or block foundation. The rafters (your choice of wood or steel and purchased locally) could be designed for your choice of either a gabled or monoslope roof.
Mathison emphasizes that the long, one-piece seamless and selfsupporting panels are well equipped to serve as load-bearing walls. "We can go up to 60 ft. wide and 200 ft. long without any inside walls," he points out. "The panels will withstand the blow of a 12 lb. sledge hammer without denting or cracking. All seams, edges and joints in the building are designed for fast, on-site assembly, allowing a sizeable barn to be built from scratch in only one day.
Once the walls are erected, the doors (and any windows, if desired) are sawed out. Each "plug" sawed out can be framed and put back to serve as the door. "Most owners are finding that the fewer the doors and windows you put in, the better. Makes it easier and cheaper to control inside air temperature and humidity. Some owners leave solid walls all the way around except for a single walkin door on one side," according to Mathison.
Trusses rest on, and are anchored to, a 2-in. wood plate built into the top of the wall panels.
Cor-Tec supplies 11/z in. thick "sandwich" panels, containing the same but narrower layers of foam, for making room dividers and ceiling panels inside the building. "The idea is to use the same smooth and durable surface on all inside walls so they can be easily and thoroughly cleaned with a high pressure washer, and with strong detergents and disinfectants," says Mathison. "The durable polyester surface has no ridges or recesses where bacteria can hide."
Narrow panels, laminated on both sides, are also used as pen divider panels. This feature assures a total interior that is easily pressure washed clean. These pen divider panels range from 30 to 36 in. high and in lengths to fit most any facility.
Mathison adds that tests are underway to secure a fire rating for the Cor-Tec panels. "We think they offer distinct advantages in both fire protection and sanitation but we're awaiting results of laboratory tests before making any specific claims," he points out.
He notes that cost of Car-Tec buildings "will be competitive with all other popular farm building systems now on the market. We'll be offering buildings in a choice of about 6 different colors. They never need a painting, won't rust or corrode, and are rodent proof."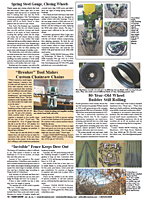 Click here to download page story appeared in.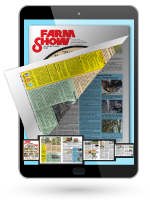 Click here to read entire issue
To read the rest of this story, download this issue below or click
here
to register with your account number.