Wisconsin Firm Builds World's Finest Car
Step aside Rolls Royce, Excalibur and certainly Cadillac and Mercedes. The world's finest passenger automobile is the Duesenberg H, built in Elroy, Wis.
Duesenberg II sales literature issued by the manufacturer, Elite Heritage Motors, recalls U.S. auto-making history: "Out of the crucible of racing roared the mighty Duesenberg. Backed by the legendary E.L. Cord, it was built to outclass everything on the road. The Duesenberg was the "distinction of absolute quality."
Continues modern-day businessman and Elite Motors president Richard I. Braund, "With its desirable appearance from the grand old days of motoring, our Duesenberg II offers passengers the same exhilaration as driving the original classic. Yet it provides the comfort and convenience of a modern automobile. We call it a modern classic."
Price tag? $125,000, plus tax.
The Duesenberg automobile is the origin of the phrase, "It's a Duesie" and only 472 actually were built ù in Indianapolis, Ind., from 1929 to 1936.
It sprang from the mechanical genius of the brothers Fred and August Duesenberg, whose racing cars at one time dominated the Indy 500. The brothers immigrated from Germany, first manufactured bicycles in Iowa, then made racing boat engines in St. Paul, Minn.
Duesenberg II, explains Braund, is not a replica. Instead, it is a modern motor car, updated regularly, yet manufactured in the style and tradition of the original. It looks so much like the original that you can hardly tell otherwise from a few feet away.
Yet it has a modern engine, automatic transmission, power steering, air conditioning, turn signals, a pollution control system, seat belts, power seat and more.
Each Duesenberg II is manufactured to order. Braund's son Richard W. is plant manager, and the senior Braund's wife Pat is part manager.
Thirty employees, many of them young men who grew up on south-western Wisconsin dairy farms, spend 5,000 hours to make one car.
Production rate at the shop-type factory is one car per month.
How's business?
"Good!" explains Braund. "We've always been sold ahead. If you were to order a car today, we'd deliver this fall. And there have been times we've been sold two years ahead."
There are three basic models, and many details of each car are individually specified by the buyer ahead of manufacture.
Braund claims his car stands alone at the top of the fine car field, though a few European-made cars, mostly sports-type, cost as much.
"Conceptually we're by ourselves, except for Rolls Royce as to prestige," he points out. "But the Duesenberg II is much more exotic."
All Duesenberg Ils are convertibles, and instead of roll-up glass windows, most have removable side curtains. Seats are leather, and there are no outside door handles.
Original Duesenberg features occur throughout: Inside, thick beveled glass protects instruments, including the altimeter, a Duesenberg "trademark." The rear seat of the Royalton has its own folding windshield. There are dual cowl lights, and rearview mirrors on both sides are lashed to the fender-mounted spare wheels by way of attractive leather straps and buckles.
The cars, containing Lincoln engines, transmissions and other mechanical components, are warranted by Ford Motor Company under a special agreement. They can be serviced by Lincoln dealers.
Resale value? "The few Duesenberg Its that have been re-sold brought more than their original price," reflects Braund. One brought $500,000.
The Wisconsin car maker contends that not only customers appreciate the car. "In this day and age, when most things tend to be cheap and hurried, we feel the general public appreciates something built with elegance."
For more information, contact: FARM SHOW Followup, Elite Heritage Motors, Elroy, Wis. 53929 (ph 608 462-8100).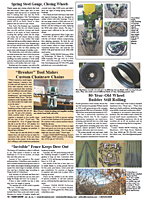 Click here to download page story appeared in.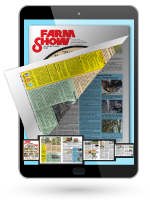 Click here to read entire issue
To read the rest of this story, download this issue below or click
here
to register with your account number.