Path-Maker Best Buy
Jim Ruen, La Crescent, Minn.: "The Path-Maker (www.pathmakerllc.com; ph 318-548-3643) is everything the company said it was when I did a new product story on it about a year ago (Vol. 46, No. 1). I know how well it works because the company recently sent FARM SHOW their latest model, the Gen 8 ground level chainsaw on wheels, to test out.
    "The Path-Maker is 22 in. wide with a 20-in. cutting swath for getting into tight spaces between trees. The Gen 8 has a stronger engine, an improved design, and a slightly larger fuel tank.
    "I have about 60 acres of woods and the usual roadside areas that grow up with brush and brambles when not tended. I've used brush cutter blades on string trimmers, arborist chainsaws, and full-size chainsaws. All of them worked, but all of them also had problems.
    "Brush cutter blades on heavy-duty string trimmers are terrific for smaller stems. Hit one that is too big, and it can kick back. A big problem with chainsaws is keeping them out of the dirt, plus small stems seem to encourage chains to jump the bar.
    "The Path-Maker addresses both problems. It easily chews through small stems, and while the company recommends not tackling saplings larger than a 4 1/2 in. base diameter, the biggest concern seems to be how trees might fall.
    "The chainsaw/dirt problem is less of a concern with the Path-Maker's roughly triangular bar. It's angled slightly upward. It still cuts the stem at ground level, but the design, angle, speed and point of entry allow chains to go a longer time between sharpening, on average about 5 hrs.
    "I really appreciate having the cutting bar out and away from the operator. I know how quickly a chainsaw can kick back at me, especially when chewing into a thicket of stems.
    "I still managed to have the chain jump the bar when I failed to check tension after running it initially.
    "Safety comes into play in another way with the Path-Maker. Stems are sliced off at ground level, leaving no nubs a few inches tall to trip me as I walk through the woods.
    "I noticed a couple of things I hope the company addresses in Gen 9. One is the placement of the hand control for start-up and throttle. It's centered on the handle. If it was an attempt to address left and right-handed people, it doesn't work. It does make it awkward to push forward while cutting.
    "Another change regards the oil tube. While they include a hose clamp to secure it in place to lubricate the bar, it's suggested as an option. I installed mine immediately as I know how easily it could fall off and the chain run dry before I noticed it.
    "The only non-operator problem I ran into was a loose bolt on the sprocket mechanism. It had not been tightened down at the plant, and I failed to notice it when installing the chain. Soon after startup, vibration loosened the bolt further, and the chain stopped in place. Once I tightened the bolt, it was good to go.
    "At $599 plus shipping, I think the Path-Maker Gen 8 is a best buy."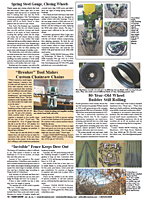 Click here to download page story appeared in.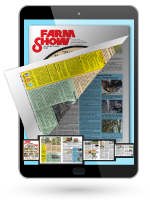 Click here to read entire issue
To read the rest of this story, download this issue below or click
here
to register with your account number.