Add-On Kit Keeps Corn Off The Ground
The Kernel Keeper pays for itself keeping corn kernels in the header and off the ground. Dave Hockemeyer, Davaus (Vol. 43, No. 1), estimates that a single kernel saved per sq. ft. across 1,200 acres provides a net return over the $2,100 cost for the Kernel Keeper. Increasing net return is why he and Davaus co-founder Austin Ehle developed the Kernel Keeper.
"What other industry leaves products on the ground?" asks Hockemeyer. "As margins get tighter, we're trying to save every last kernel. We won't completely prevent or eliminate shelling, but we've seen losses as high as six bushels per acre. We feel we'll save from 1/2 bushel to 2 per acre, and that's a conservative estimate."
For Hockemeyer and Ehle, it was a personal and business decision to reduce combine header loss. In the past, they introduced the SeedRight Backer Plate, making it possible to plant small grains and cover crops with existing OEM seed plates and Kinze OEM brush-type meters. It was invented by an Ohio farmer. The Kernel Keepers is an in-house invention.
"As we rode in combines and looked down to see product on the ground, it was painful emotionally and economically," says Hockemeyer. "We realized the dumbest thing a person can do is to slam a nice, hard ear of corn against a piece of hardened steel, but that's what we do with a combine."
Hockemeyer and Ehle came up with a two-part solution. The first was to attach a UHMW poly rail to the hardened edge of deck plates to soften the impact and redirect the ear. The second part was to add brushes to the gathering chain to sweep loose kernels into the auger.
They've assembled all the hardware needed in a kit, including a high-quality bit for drilling holes in the existing deck plates. The pre-drilled, poly rail is sized to avoid the hardest edge of the deck plates.
"The hardening fades away as you go inboard," says Hockemeyer. "We offset the holes in the rail about 1/2 in. where the deck plate isn't as hard."
The 16 gathering chain brushes mount to two existing holes in each gathering chain finger. Two styles of gathering chains are practically universal across the combine header industry, and both feature the two unused holes.
"Installing the brushes is the easier part," says Hockemeyer. "Just slide the nuts into existing pockets and insert the bolts."
Installation is estimated at 20 min. per row unit initially, dropping to around 15 by the final row unit. That includes drilling the holes in the deck plate.
With holes already drilled, replacing rails will take only a few minutes each, but they'll have to be replaced. "The rails take a beating and will wear out before the brushes do," says Hockemeyer. "Our high-speed cameras show the ear hits generally in one area. The brushes wear longer."
Kits are priced at $195 per row, with each set of rails harvesting about 150 acres before needing to be replaced. To calculate replacement time, multiply the number of rows by 150, i.e., an 8-row combine would cover 1,200 acres before the multiple sets of rails would have to be replaced.
Future kits may include pre-drilled replacement deck plates as well.
"With our current kits, you don't have to replace deck plates," says Hockemeyer. "Drilling holes in them is not difficult. We've done it many times as we developed these kits."
Kernel Keeper kits are being introduced for square edge, flat deck plate style headers. These are mostly Deere, but some other brands as well. Other styles are planned. The company will also be adding installation videos to its website.
Contact: FARM SHOW Followup, Davaus, 14508 Bruick Dr., Hoagland, Ind. 46745 (ph 260-245-5006; www.davaus.com).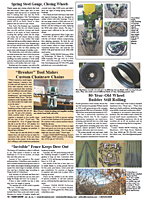 Click here to download page story appeared in.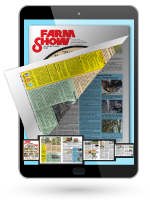 Click here to read entire issue
To read the rest of this story, download this issue below or click
here
to register with your account number.