Experimental Fordson Restored To "Like New" Condition
"As far as I know, I have the oldest Fordson experimental tractor built by Henry Ford that exists anywhere," says Duane Helman as he describes his flawless gray-bodied and red-wheeled gem. Nondescript without decals, it's identified only by the '9X' stamped into its engine block. "This tractor was one of about 50 'X series models' built by Henry Ford and his son Edsel in the summer of 1917. They were prototypes built to work out the bugs before manufacturing began on the 7,000 production model tractors that Ford and Son contracted for Britain and another 1,000 for Canada as they fought Germany in WWI. Those tractors eventually became known as Fordsons," Helman says.
"Back in the early 80's, I'd heard that a rusty old X9 had sold at a Greenfield Auction in Dearborn to a buyer named Cecil Church," Helman relates. "I didn't think much about that over the years and never saw the tractor at any shows. In the late 1990's, I was at a show in Waukee, Iowa, and noticed a Fordson radiator for sale. When the seller found out I collected Fordsons, he asked if I'd ever heard of a 9X. I told him I'd read a magazine article about one that was sold in the 1980's. Turns out the guy I was talking to was Cecil Church, the buyer. He still owned the tractor, and he was willing to sell it. The next morning, I saw him again and asked if he still owned the tractor, he said yes, and I said well, you just sold it." They sealed the deal with a handshake, and he picked up the 9X, not knowing it was painted green and was missing its carburetor and manifold.
"Those parts were stolen while the tractor was at a show in the late 70's and Church didn't replace them," Helman says. "I had replacement parts to fit and put them on when I restored it."
The 9X is very unique with a solid frame where the engine, transmission, and rear housing are all one unit. It has a Holley single bowl carburetor along with a vaporizing manifold mixer that moves kerosene vapor into the 22-hp. engine. The engine is started with a hand crank located below the radiator. The ignition system was borrowed from the Model T cars that Ford built. A manual spark adjusting lever times the firing in relation to the piston position. If it's advanced too far the engine could kick the crank back and injure the person trying to start it. A retarded spark causes the engine to spit and sputter at higher rpm's. "If everything is timed out just right, the engine fires right off," Helman says. Cooling is done with an oversized system that holds 11 gals. of liquid.
The drive system is a series of worm gears that delivers power from the engine to the 42-in. dia. rear wheels. Each wheel has 16 diagonal cleats. The 9X weighs 2,500 lbs. and could pull a 2-bottom plow and about 1,500 lbs. on the 3-hole drawbar that's integral to the rear gear housing.
After buying the tractor, Helman replaced the missing parts, sandblasted it, and painted it the correct color. He brought it to a show at Ford's Dearborn facility, and people admired the restoration. He says people told him it was parked very close to where it had sat in the weeds behind the Ford production plant for many years. "It's quite a piece of history. I've even got the auction bill from when it sold at the Greenfield auction," Helman says.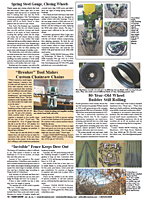 Click here to download page story appeared in.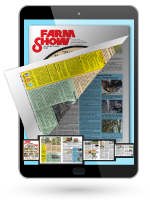 Click here to read entire issue
To read the rest of this story, download this issue below or click
here
to register with your account number.