Kerosene Annie Running After 100 Years
It's not often tractor enthusiasts get to restore a legend like Kerosene Annie (Vol. 18, No. 6). The 1910 Rumely prototype tractor wouldn't have fired up at the 2022 Western Minnesota Steam Threshers Reunion (WMSTR) without such an effort. It took hundreds of hours of work over a few weeks by a team of eight such enthusiasts from the U.S. and Canada.
    "There's a good network of people out there who work on Rumelys," says Luke Steinberger, who, with the support of his wife, played host to the effort. "We opened up our house to team members from out of the area. We worked intensively for about a week and a half, putting in 300 man-hours in just 5 days."
    The effort started when plans were made to feature Rumely tractors at the 2022 gathering. "We knew we had a chance of getting Kerosene Annie to the show, but we needed to get it operating," says Steinberger.
    Kerosene Annie spent decades sitting behind the old Allis Chalmers factory in Milwaukee, Wis., before famed antique tractor collector Oscar Cook procured it. In 1998, Cook's collection was auctioned (Vol. 22, No. 5) and the forerunner of the Rumely family was purchased by J.R. Simplot for a planned museum. Eventually, it was put on display at Jack's Urban Meeting Place (J.U.M.P.) in Boise, Idaho (Vol. 46, No. 6).
    "Oscar worked on it and had it running, but barely running, according to people who saw it," explains Steinberger. "Rob Bearden with Jack's Urban Meeting Place had already put about 1,000 hrs. into cleaning, painting, and getting it ready for display. He showed up at the farm and stayed for 4 weeks."
    Beardon brought a new fuel tank and stack with him, while Steinberger supplied the shop and tools needed. Other team members included: Luke's son Eli, Clyde Hall and Lyle Stomp, Fillmore, Sask.; Kelly Tytlandsvik, Estevan, Sask.; and Dave Sunsdahl and Stan Demeyere, Stephen, Minn.
    "The biggest challenge was that the motor was very tight," says Steinberger. "We belted it up to another tractor to free it up, but it was still tight. There was a tight wrist pin on a piston."
    The piston and rod were taken to Larson Welding & Machine in Fargo, N.D. The pin was pressed out, and the rod side was cleaned out to get the wrist pin to fit the way it should, with all labor donated by the shop.
    Steinberger turned to Richard Kibble, Fort Shaw, Mont., for magneto repair. Kibble is in his upper 80's and has been doing magneto repair for decades.
    "We reassembled the engine and replaced paper shim stock with brass and did a lot of work on the governor's springs so it would respond," recalls Steinberger. "We rebuilt the fuel pump, put in new plumbing, and put new woodwork on the platform."
    Steinberger put the overhead gantry in his shop to good purpose handling heavy parts, including replacing the stack.
    When all the work was done, and Kerosene Annie was running as it hadn't for more than 100 years, the move was made to the WMSTR gathering over this past Labor Day weekend.
    "The time and effort of the volunteers and the contributions from so many to cover the transportation costs were worth it," says Steinberger. "Kerosene Annie is a part of history. Having this tractor at the show was comparable to getting something out of the Smithsonian. It had run before, but never like this, pulling a 5-bottom plow and powering a sawmill while pulling 58 hp."
    Another special guest at the WMSTR was one of the first production versions of Kerosene Annie. A Model B Rumely was loaned by the Divide County Historical Society, Crosby, N.D. It and other Rumelys will be the focus of their show this coming July 13-15.
    The effort had special meaning to Steinberger. While he restores around three tractors a year in his shop, Rumelys are high on his list of favorites. He estimates he has restored about a dozen of them over the years and owns six. His connection to Rumelys goes back several generations.
    "My great-grandparents farmed with Rumelys," he says. "One of mine is the same model they ran. That's what put the fire in my belly to help with this project."
    The work done by the team will live on now that the famous tractor is back in Boise, Idaho. "Before the restoration, the tractor was on display in a glass box," says Steinberger. "We understand the box will now have a door, so Kerosene Annie can be taken out and used."
    Contact: FARM SHOW Followup, Luke Steinberger, 2816 169th Ave. SE, Harwood N.D. 58042 (ph 701-492-8002; lukesteinberger@hotmail.com).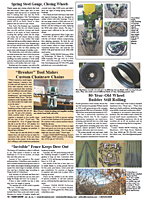 Click here to download page story appeared in.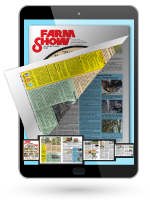 Click here to read entire issue
To read the rest of this story, download this issue below or click
here
to register with your account number.