"Beast" Promotes Chip-Tuning Business
Mario Monette's 4,000 hp., CAT 215 powered, 1988 Peterbilt 379 with its 7,000 ft. lb. of torque is rightly named "The Beast". He hit 120.35 mph. in a quarter mile to win the NHRDA Semi Hot Rod world speed record. The Beast runs at 4,500 rpm's with a custom-built, 5-disc centrifugal clutch and 18-gear standard transmission. Monette does it all with an engine that was seized up and rusted when he got it, plus a bunch of other used parts.
"It had 1.3 million miles on it, and I paid $1,000 for it," recalls Monette, Mario High Performance Diesel. "As I worked on it, I saw it as a piece of art. In my head, I had an idea of how a truck could go like this."
The former Detroit engine engineer/mechanic has extensive knowledge about trucks from the mechanical to the software that runs them. Tuning big trucks and tractors is his business. He started by rebuilding trucks as a teenager, was educated in diesel technology at a time when the industry was transitioning to electronic controls and traveled the world as a diesel tuner. Today he continues doing domestic and international tuning, but from his office desk. He is as much a programmer as he is an engineer. Much of his work is done with software and hardware tools he developed himself.
"I have 65 shops around the world that use my tools," says Monette. "They hook up a truck to my tools, read the calibrations, encrypt them and send them to me. I send back the correct calibrations to tune the engine.
"I have 45 shops in the U.S. who will call me," he adds. "They connect a laptop to an engine needing to be tuned, and I log in and do the tuning remotely. I can run the rpm's up or cut out a cylinder, all from my computer."
He gives credit for about half of his current business to the decision to build The Beast and its subsequent success. At the time, he didn't have the tools or the three-person staff of programmers he has today, much less a fully equipped and staffed machine shop.
"I had no money, just passion," he says. "I grew up in the world of big truck racing. My dad was a truck driver, and I thought of him when I started The Beast."
To create The Beast, he stripped the Peterbilt, keeping only the hood, the frame and the front axles. He tore apart the engine and rebuilt the myriad of other used components he needed for the build. Engine work alone involved countless hours. Guides, springs…everything was machined. That included the rods and polishing the pistons. Some work that he did on The Beast then gets redone on a regular basis.
"Cylinder heads are the only thing that blow up on my engine," says Monette. "I buy used ones with millions of miles on them and machine them. I will put 40 to 50 hours into one cylinder head."
The heads get a special Monette touch. "I machine them to crush the head gasket on the liner," he adds.
He runs two turbos with 220 lbs. boost for extra power, lowering their compression from 16.1:1 to 9.1:1. "The compression is so low, I have to use ether to start it, even in 100-degree temperatures," says Monette.
Unlike many in racing and pulling competitions, Monette doesn't use nitro in the fuel, nor does he use an automatic transmission.
"I use big injectors, lots of fuel and air, but no bottles (of nitro), and I run a stick transmission," he says proudly.
It's the tuning he does that makes the difference. Whether for The Beast or a farm tractor, Monette prides himself on his ability to maximize power and economy.
"You can get so much more power with a stock engine simply through tuning it," he says. "I love doing that. I show people what can be done with a computer to add power, without adding other components."
Monette emphasizes that getting more power is also not a matter of deleting emissions systems, as is often done. "You can delete something, or you can fix it," he says. "If you know how to troubleshoot, you can fix it."
Fixing entails custom tuning of the electronic control module. Monette and his programmers seek to optimize combustion and produce cleaner exhaust with less particulate. The result, he suggests, is an engine with more power, quicker response, reduced fuel consumption and a longer life span.
After 7 years of racing and special events, The Beast is getting some updates. At a recent Trucking for Kids charity event, a fuel line broke, and the resulting fire melted anything plastic or rubber.
"The engine still runs perfectly, but I've been waiting to upgrade it," he says. "I've added new cylinder heads, injectors and valve heads. It was time to refresh it for operation and safety. I'm leaving the body as it was after the fire, just clear-coating it."
When racing, he travels with at least two crew members, one just devoted to adjusting the clutch after every run.
In between all the special events, he will be tuning engines. "I do around 10 tunings a day, 5 days a week," he says. "However, The Beast will remain a big part of the business."
Contact: FARM SHOW Followup, Mario High Performance Diesel, 13803 156 St. NW, Edmonton, Alta. Canada T6V 1J1 (ph 780-540-8755; info@mhpd.ca; www.mhpd.ca).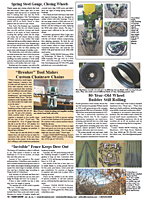 Click here to download page story appeared in.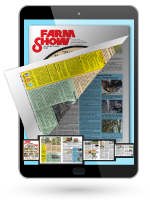 Click here to read entire issue
To read the rest of this story, download this issue below or click
here
to register with your account number.