Self-Heating Home Still Going Strong
Mike Sykes shared his bright idea about energy-efficient house building with FARM SHOW readers 34 years ago. "New No Furnace House Heats And Cools Itself" is how FARM SHOW founder Harold Johnson described it (Vol. 12, No. 4). In the years since, the concept Sykes came to call Enertia has been recognized nationally for its innovative and energy-efficient design.
    "Houses built our way pay for themselves in energy savings alone," says Sykes, Enertia Building Systems. "We have more than 100 homes spread out across the country from North Carolina to Vermont and Minnesota and west to Vancouver, B.C."
    Some of them resulted from that first FARM SHOW article, adds Sykes. "One farmer in Illinois ordered one in the 1990's," he says. "His sister liked it so much that she ordered one in 2005."
    The concept involves enclosing the living area of the home in what he calls an atmosphere. It's a shell that insulates it from outside temperatures and connects it to the earth. In southern regions, it involves double walls with a 6 to 12 in. space between them to the north and a sunroom to the south. In northern areas, double walls will also be used on the east and west. The home uses geothermal energy beneath the building's floor to heat it in the winter and cool it during the summer.
    One key to the energy efficiency is the yellow pine used for walls. Sykes uses about seven times as much wood in his homes as conventional contractors do.
    He eliminates the need for siding, insulation, or sheetrock to cover it with precut and numbered, tongue and grooved glulam blocks. He compares construction to building with Legos.
    Sykes initially used Southern yellow pine, because it was readily available where he lived in North Carolina. He still uses Southern yellow pine, but in Glulam beams, stronger than steel. It has a higher resin content than other pine species.
    "The resin goes from solid to liquid and back at about 70 degrees," explains Sykes. "It stores and releases heat when it transitions. It can store a lot more energy than oak or other tree species."
    The thermal mass of all that wood acts in reverse in the summer, absorbing heat during the day and releasing it at night. The design opens the envelope for cooling. Cooler air enters basement windows, picking up heat as it moves upward and vents it through rooftop windows. At the same time, the permeable wood walls allow humidity inside the house to migrate to the outer surface, where it is evaporated away by the sun.
    Initially, Sykes designed the sunrooms as 4-ft. wide solar collectors. The width quickly changed as clients recognized the room's potential alternative uses.
    "We went from 4 to 6 to 8, and now we are building 10-ft. sunrooms," says Sykes. "They tell us it is the room they love the best."
    The same thermal mass of timber that keeps homes comfortable and energy neutral also raises the cost of the homes. Kits comprising exterior walls and two interior walls, as well as flashing, gaskets and fasteners start at $240,000. Beams for upstairs floor systems and the rafters for the roof structure are also included. Exterior walls are predrilled with cutouts for electrical wiring and boxes
    Kits are custom designed with the buyer to match their needs, the site and the local climate. Enertia Building Systems will work with architects, or clients can choose from the company's pre-engineered plans and make their own changes.
    Sykes has licensed his patents to long-time employee, Andrew Duncan, his wife Michelle, and their sons and daughter. He's confident they will carry the company forward another 34 years and more.
    Contact: FARM SHOW Followup, Enertia Building Systems, P.O. Box 845, Youngsville, N.C. 27596 (ph 919-800-9927; contact@enertiahomes.com; www.enertiahomes.com).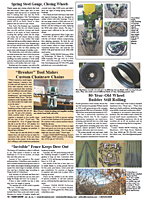 Click here to download page story appeared in.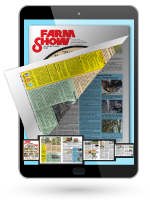 Click here to read entire issue
To read the rest of this story, download this issue below or click
here
to register with your account number.