Pallet Fork Best Buy
Jim Ruen, La Crescent, Minn.: "Pallet forks from Wild Hare Manufacturing (www.wildharemfg.com; ph 218-483-1000) boost versatility of their hydraulic loader for ATVs. I've had the Wild Hare hydraulic loader (Vol. 40, No. 1) since 2016. I also had its predecessor, the Ground Hog loader, since 2004 and used both for everything from blading snow to moving earth and pushing logs around.
"The 34-in. long, 1 by 3-in. forks use the same 3-pin connection as the bucket and blade. The 1 by 2-in back frame is 19 in. high by 28 in. wide, ready to catch and carry logs and beams once I tip the forks up.
"The electric-over-hydraulic pump and cylinders offer up to a 500-lb. lift with sufficient down pressure to lift the front end of the ATV off the ground. I didn't come close to that lifting either bales or concrete blocks stacked on a pallet. One too many and the rear wheels were in the air. If needing to move many, I'll have to add rear weight to my 500 cc Honda Foreman. The heavier the ATV, the greater the relative lift.
"Where the forks shine is the pinpoint accuracy when picking up logs and branches. I had no problem sorting through a pile of branches needing to be cut up before splitting. They also made it easy to chainsaw at a working height, out of the weeds, and far away from saw chain dulling dirt. Picking half-buried logs and branches out of the ground was also not a problem.
"I put the precision control of the forks and the Wild Hare's 3-way hydraulics to the test with a 10-ft., 7-in. hickory log. I wanted to lay it down as an outside border to my deer fence. I'd already scraped away the sod and laid down a strip of billboard tarp for the log to set on. Fingertip control of the loader and forks let me lay the log in as carefully as if I'd set it by hand and a lot easier. It didn't even wrinkle the tarp.
"The Wild Hare loader system is available for all major ATV brands with a recommended minimum of 400 cc. Mike Benson, Wild Hare, reports the company is close to introducing a loader system for leading UTVs.
"The pallet forks are priced at $419 plus freight and available direct from the company. Wild Hare offers a 38-in. wide, 35-in. deep, 19-in. high Lawn Basket for use with the forks. Four slide pockets on the bottom side slide over the forks. Two nylon straps attach to the forks' frame. It's priced at $189 plus freight."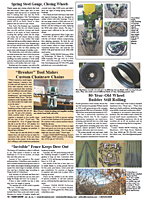 Click here to download page story appeared in.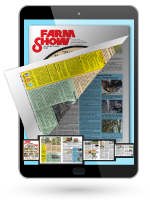 Click here to read entire issue
To read the rest of this story, download this issue below or click
here
to register with your account number.