All Things Diesel Museum
Erik and Amy Schroeter grew up visiting diesel-related museums with their father Arnold, founder of Central Fuel Injection Services Company (CFIS). For the past 20 years, they haven't had to go far. Arnold started the Schroeter Diesel Technology Museum in Estherville, Iowa, in 2000. Erik and Amy now run it in addition to CFIS.
    The museum includes more than 1,000 tools, equipment, fuel injection parts, diesel pumps, nozzles, test stands, turbo cutaways, memorabilia and reference materials.
    "During summers, we would go looking for diesel stuff, and he knew people who had it," says Erik Schroeter. "He was a former president of the Association of Diesel Specialists (ADS), the trade association for diesel injection. They had a large museum in Kansas City they planned to close. We talked about it and said we would take it in. Then we heard from a museum in Windsor, Conn., and another in Wisconsin."
    Combined with old parts, tools and more their father had kept, the collection kept growing. Soon they were getting donations from others in the industry.
    "I love going through it," says Schroeter, a history major in college. "We have prototypes and cutaways used in training from the 1950's and 1960's and into the 70's. As models were phased out and mothballed, they were donated to the museums and then to us."
    Schroeter admits that the museum contains lots of oddball stuff, like an injector from a kamikaze plane that crashed into a U.S. Navy ship in the South Pacific.
    "Someone on that ship found that part and saved it," says Schroeter. "I don't know why, but I'm glad they did.
    "We have even older things, like the injector pump from the first diesel truck that ran in the U.S.," he adds. "The man who ran the museum in Connecticut drove that truck when he was young. Bosch borrowed it for their 150th anniversary."
    Exhibits range from large to small, from train locomotive governors and injectors to a prototype 3-cyl. diesel outboard motor from Johnson Outboards. It's about the size of a pop can.
    "They considered introducing it in the 1960's," says Schroeter. "We have injectors off of cargo ships and tanks, as well as gas injection pumps, including an original Messerschmidt injection pump."
    Schroeter explains that the Germans were outmaneuvering the allies early on. Ally plane engines were carbureted, and the Germans had injection pumps.
    Other defense industry exhibits include a Cummins pump with a Westinghouse electric motor governor generator used to launch missiles. A non-diesel-related item on display is an International Harvester M1 Garand rifle.
    "In the 1950's, the War Department was looking for more places to make rifles in case the factories on the East Coast were wiped out with nuclear bombs," says Schroeter. "International Harvester bought a plant in Indiana and made a couple hundred thousand M1s there."
    Another unique collection at the museum involves Russian knockoffs of Detroit injectors. "During the Cold War, they were trying to steal everything they could," says Schroeter.
    The museum continues to grow. "We are always looking for more," says Schroeter. "We love the history of diesels, love looking at them, and we love to share the knowledge."
    The museum is only 20 miles south of I-90 and east of Spirit Lake, Iowa. Schroeter says it's popular with customers who stop in to pick up a diesel pump from CFIS.
    "School groups visit, and we are always open by appointment," says Schroeter. "If people make an appointment, I can walk them through it. If not, they are welcome to visit and walk through on their own."
    Contact: FARM SHOW Followup, Schroeter Diesel Technology Museum, 2403 Murray Rd., Estherville, Iowa 51334 (ph 712-362-4200; www.dieselfuelinjectionmuseum.com).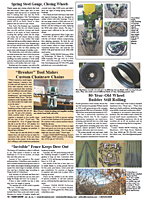 Click here to download page story appeared in.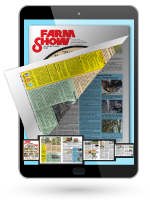 Click here to read entire issue
To read the rest of this story, download this issue below or click
here
to register with your account number.