Funk-Inspired Ford 9N Repower
"I was inspired to repower my 1940 Ford 9N tractor by Funk, a company that used to sell a do-it-yourself repower kit for Ford N-series tractors. I figured since they put in-line 6's in them back in the 1950's, why couldn't I?" says Courtney Koster, Lakewood, Colo.
She put a Ford Falcon in-line 6 engine in place of the worn-out 4-cyl. in her 9N. She got the in-line 6 from a 1962 Falcon she had been using for parts to restore her Ford Ranchero.
"I learned to weld from my dad as a teen, and my dad and grandpa were mechanics, so the work comes naturally to me," Koster says.
"I built the frame out of channel iron, and extended the front end about 10 in. because there were no adapter plates or conversions available. You can still get the flat head V8's and small block Chevy adapters, but I didn't want that."
According to Koster, the most challenging part was taking the engine in and out a few times to find out how it would fit and getting the motor mounts right.
"I kept the original hood but extended it by the dash to look like a Funk conversion. I also made the hood hinge forward like a semi. I put a bigger flywheel and pressure plate on to accept the original clutch disc. This led to a clearance problem and no place to put the starter, so I made a hand crank which works easier than I thought it would.
"I made the hand crank by getting a crank nut from an old tractor I found on eBay. I centered it on a 1/4-in. plate and tacked it in place to make sure it was straight on the front pulley, before finally welding it in place. I modified a crank handle by lengthening it and using a die grinder on the original hole in the front so it would fit the larger diameter crank," says Koster.
She had to put a remote oil filter on as the frame hit the oil filter and HEI distributor on the Falcon engine. Koster also extended the tie rods. "I got lucky and moved the radius rods forward without any modification by using the original cups and foot pegs."
Koster says, "It has about 4 times more horsepower than a stock engine but keeps the original look. I don't think I would do anything different if I did another. It took me a little over 3 mos. to complete, tinkering on evenings and Sundays.
"So far I haven't used it much, just driving in the yard. I do antique tractor pulls and want to go pull for fun and exhibition, and also do some shows and parades."
Contact: FARM SHOW Followup, Courtney Koster, Lakewood, Colo. (ssjewelersupply@yahoo.com).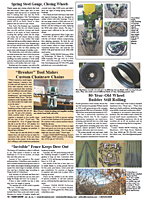 Click here to download page story appeared in.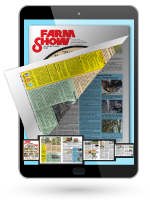 Click here to read entire issue