Restored 1938 AR Deere Looks "Factory New"
Peter Trant had no intention of starting a restoration project when he stopped by his friend Earl's family farm. But that all changed when Earl's dad Herb showed him a pile of rusted parts piled under a shade tree. "When I got home, I just couldn't get that picture out of my mind," he says.
A few weeks later Trant brought Earl a well-preserved 1941 British Columbia license plate and told him, "It's going to cost you." Earl's quick response was "How much?", to which Trant replied, "All that rusty green iron under the tree on your Dad's farm." They shook hands on the trade, and Trant says it's still open to question about who got the best deal.
Trant and his friend Paul Carter originally thought they'd assemble the parts into yard art, but the possibility of getting the engine running changed their minds. The men soon learned that all the parts were castoffs from Earl making one tractor out of two and were either worn out, broken, or missing altogether. Not deterred in the least, Trant says "Paul and I have restored several car engines, so we stitched up the cracks in the block, sleeved the cylinders, salvaged the original pistons, installed new rings, polished the crankshaft, fitted new valves and re-ground the cam." Trant joined the Two Cylinder Club and found the magazine a great source of information and leads for missing parts.
"Local collectors had some of what we needed, and we made some castings for another collector in trade for some bits we needed," Trant says. His friend Earl loaned him levers from one of his tractors, which they used to cast patterns for replacements. As with most restorations, luck also played a part in the finished project.
Trant found a radiator with the correct core design at a local swap meet for just $10. It was larger than what they needed, so they cut it down, soldered on the old header plates, and Trant says it looks great and doesn't leak a drop.
Restoring the wheels was another story because the original steels had been cut down for pneumatic tires. Trant eventually connected with a fellow in Northern Sasketchewan known as 2 Bang Tractor, who "sold me a very nice pair of rear wheels, a set of frozen radiator shutters and some parts we didn't even know we were missing." Trant also bought a set of torn but solid fenders from 2 Bang, which he carefully grafted together with sections of those from Earl, to make a restored pair.
After the tractor was re-assembled and running, they decided metal cleats weren't practical for driving on pavement. "Paul and I looked at pictures of other wheel restorations and decided we could make our own treads if we had the right materials," Trant says. "As luck would have it, I was able to buy treads for the front and rear wheels from a man who worked at a re-treading plant. He showed me how to prepare the joints and provided the vulcanizing material. We jerry-rigged an oven to join the tread ends, then filled the 'gutters' on the outside edges with long and strong bondo. After finiding an appropriate glue, this was a perfect solution and the wheels look factory-made," Trant says.
Carter and Trant agree that resurrecting the old tractor was more work than anticipated, but Trant says they didn't keep track of time because it was great fun.
Contact: FARM SHOW Followup, Peter Trant, Vancouver, B.C. Canada (ptrant@shaw.ca).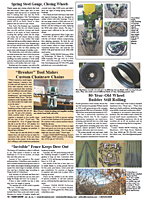 Click here to download page story appeared in.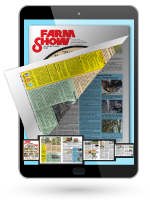 Click here to read entire issue