Minnesota Inventor Unveils Revolutionary Crop Dryer
A Minnesota inventor's revolutionary crop dryer has passed its first major on-farm test with flying colors.
Designed and manufactured by Sylvan "Sib" Sime, owner of Simes System, Walters, Minn., the "new concept" Simes dryer went to the field last fall to show its stuff.
"I really believe it's the dryer of the future," concludes Richard Stadheim, farmer and owner-operator of a grain elevator in Emmons, Minn. He bought the very first Simes dryer built and used it last fall and winter to dry right at 140,000 bu. of corn in the 17 to 22% range.
Stadheim figures his fuel cost (Lp-gas @ 40 cents/gal.) was 2.5 to 3 cents per bu. "That's about half of what it cost me to dry corn of comparable quality and moisture in my conventional Clipper dryer," Stadheim told FARM SHOW. "We ran wet corn through the Simes dryer at about 650 bu. per hour and heated it to about 210?. The new dryer runs quiet, has vey few moving parts and requires virtually zero maintenance. We didn't have any problems with it."
Sime, veteran manufacturer of electric lift jacks for building big grain bins, hopes to have six just-produced production models of his new dryer in the field this fall for further on-farm testing on a broader scale.
Unlike conventional dryers, which are portable and completely assembled at the factory, the revolutionary Simes dryers are "non-portable" and erected "on site" on a poured concrete foundation.
"I'd estimate that about 95% of all crop dryers sold to farmers are never moved once they're set up at the farm," Sime points out. "The main reason they're made portable is for the manufacturer's benefit ¨ so they can ship them. Since most farmers don't need portability, we've taken a totally different approach ¨ on-site erection, which will allow us to ship component parts much more efficiently ¨flat and knocked down - to anywhere in the world."
Another unique feature is a heavy coat of insulation which serves as an "overcoat" to retain and recycle hot air ¨ instead of .letting it escape out the sides.
Here, according to Sime, are other key features of what he calls his "totally new concept in crop drying:
• Adjustable thickness of the grain column. Wet grain enters the dryer at top center through a canister with an adjustable skirt which allows thickness of the incoming grain layer on the roof cone to be adjusted from 6 to 16 in., depending on moisture content.
Wet grain gravity feeds down the roof cone and drops into one of 12 vertical compartments formed by two circles (one inside the other) of perforated metal spaced 9 in. apart and supported by vertical 12 ga. galvanized metal z-bar supports (9 in. wide).
"These vertical z-bar supports are imbedded in concrete at the bottom and form the basic structure (13.5 ft. in dia. and 26 ft. tall) of the dryer," explains Sime.
There's a door at the bottom of each of the 12 vertical columns around the circumference of the dryer. "These doors provide fast, total cleanout when switching from one grain to another. In case of a fire, the door can be opened to allow all of the grain in the dryer to empty out in a matter of minutes, Sime points out. "Also, if there are any big rocks, they'll generally come to rest at the bottom of a compartment ¨ without getting into and possibly damaging the sweep or take-away augers."
• The dryer's 48 in. vane axial fan, suspended in the center of the center plenum and driven by a 40 hp electric motor, provides unusually high air flow (45,000 cu. ft./min. against 1 in. of static pressure). "This type of fan is normally faulted for being noisy. However, the heavy coat of insulation around our dryer helps dampen this noise so it isn't a problem," Sime points out.
• Drying capacity is rated at 400 bu. per hour to remove 10 points of moisture in corn, and up to 750 bu. per hour to remove 5 points. "Corn exiting the dryer is cool enough to go directly into storage," says Sime. "Also, drying is uniform. We think it's possible to have virtually every kernel within 1% of the target moisture level. We'll be running tests to verify this."
• "A double sweep 8 in. auger at t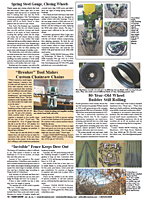 Click here to download page story appeared in.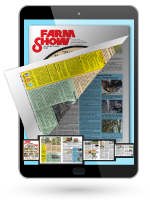 Click here to read entire issue
To read the rest of this story, download this issue below or click
here
to register with your account number.