His Rare Balers Are All Like New
Paul Lano's wife says that buying and restoring farm machinery is an illness. If that's true, Paul says he's been stricken with it since childhood. 
"My father and two brothers started an implement business in 1946, so I've been around equipment from the time I was old enough to walk," says Lano.  These days Lano Equipment is still a thriving business, and Paul is one of four brothers who run it in Norwood, Minnesota. He also owns 4 rare New Holland balers and over the years has bought, restored and sold several others.
Lano's New Holland self-propelled model 1281 was built in 1965. He says the company built just 430 of the 1281's over 3 years in response to expanding large hay operations in the West. They built 7 self-propelled models overall from 1956 to 1984. The model 166 made a 14-in. by 18-in. bale and the other 6 models made 16-in. by 18-in. bales.
"The larger bales were a little heavier to handle," Lano says, "so most self propelled balers pulled an accumulator that left groups of bales on the ground or they laid individual bales on the ground where they were picked up with an automatic bale wagon."
Lano's 1281 was originally sold in Beach, N. Dak., near the Montana border. He acquired it from his best friend's father-in-law. "The man had a huge collection of farm equipment and many great ideas for each item, but never seemed to have enough time to restore them," says Lano. "The 1281 sat in his barn for many years and he knew I wanted it. His son-in-law and I eventually purchased his property."
After getting the engine running, Lano baled some straw with the baler before getting it painted. "After that I took the drive belts off so I wasn't tempted to bale with it after fixing it up," he says.  The list price for a new 1281 in 1965 was $7,235 and recently some restored self-propelled balers sold at auction for more than $20,000. Lano says an original 166 with two Wisconsin engines is a very collectable item.
Lano's 1281 has a 172 cu. in. Ford industrial engine that was also used in Ford tractors. It has many options used on current balers, including a super sweep pickup that raises and lowers hydraulically, an automatic bale tensioning system with top-mounted knotters, and a 1/4-turn bale chute used when the bales are picked up with a bale wagon. The full suspension seat is like those on Oliver tractors. Lano says "the platform is large enough so the driver can operate the foot controls and steering while sitting or standing. The 3-speed transmission is just right for field baling and road travel." 
Another baler in his collection is a 1947 model 76 powered by a Wisconsin 4-cylinder gas engine. It has a belt conveyor on the left side. He also has a pto-driven 1951 model Super 77. That one he pulls behind his fully restored Oliver 66.
"The Wisconsin engines were very difficult to start after they'd been running for a while," Lano says, "so if you stopped baling for a lunch break, you'd better let the engine run or you may not get it started until it cooled down."
Lano says there's a simple reason early balers had knotters on the side. "In the 1930's, stationary hay packers were invented and a person had to sit on the side of the packer and tie the bale strings or wires by hand. In 1940, Ed Nolt invented the first automatic baler at the New Holland Machine Company. In 1941 they introduced the model 73. In 1943 they built 632 model 75's and 2,000 in 1944. Both of these are very rare because they were built during the war. The 76 came out in 1946 and 4,700 were made. These models had a wooden bench beside the knotters for someone to ride along in the field in case the knotters missed a tie."
In 1953 New Holland introduced the Super 77 and in 1956 the popular model 68 came along. It made a smaller 14-in. by 18-in. bale and the plunger did 70 strokes per minute. The knotters were moved to the top and the baler was much smaller and lighter. Lano says the 68 could keep up bale-for-bale with the larger 77.  Over the years New Holland has made more than 65 models of square balers and a few years back celebrated building their 750,000th square baler.
Contact: FARM SHOW Followup, Paul Lano, Lano Equipment of Norwood, 1015 Highway 212 West, Norwood Young America, Minn. 55368 (ph 952 467-2181; www.lanoequipofnorwood.com).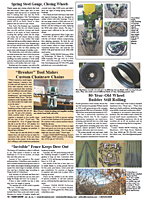 Click here to download page story appeared in.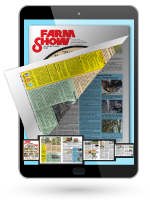 Click here to read entire issue
To read the rest of this story, download this issue below or click
here
to register with your account number.