Horse Burial Service Fills Huge Need
David Heidt buries horses. It's a job that's not easy but fills a huge need that exists in many communities. Heidt says it's also a good business opportunity for the right people.
"Last year we buried 350 horses," says Heidt. "This year I figure we'll handle 370 to 380. The business has been growing about 10 percent a year since 2003."
That was the year his wife Marta lost her horse. Since he owned a backhoe, Heidt was able to bury the animal on the farm, but recognized many other horse owners wouldn't have that option.
The first challenge in setting up a burial service was to get his farm rezoned and acquiring any needed permits. By the time he was done, he had permits from the Oregon Dept. of Ag, the Dept. of Environmental Quality, and the U.S. Army Corps of Engineers. A special use permit from the state required he notify the neighbors within a certain distance.
"The permits took more than 6 months and $1,200 when we got into the business 20 years ago," says Heidt.
In addition to horses, the Heidts have buried pigs, alpacas, sheep and goats. However, 90 percent of their business is horses. When they get a call, the Heidts takes their customized, 26,000-lb., 2005 Freightliner on the road. It is equipped with a knuckle-boom crane and a large box coated to protect it against blood and urine. It also carries a Polaris 700 ATV with a large sled.
If Heidt can drive close to the dead animal, he uses the crane to lift it into the box. Otherwise, he uses the ATV and sled to retrieve the body and carry it back to the truck.
Once back at their 377-acre farm, he picks a spot for the burial. Using either his large JD 710 backhoe or his 18,000-lb. Komatsu excavator, he simply digs a hole and buries the animal. The GPS coordinates of each gravesite are recorded. "By the end of the year we will have buried at least 3,700 horses here," says Heidt.
The GPS information is helpful when picking a new burial site, but also when owners come to visit the graves.
"Perhaps 5 percent of customers visit their animal's grave," says Heidt. "Some come every year on the anniversary of the death. Some plant a tree or place a marker."
GPS coordinates are important for finding a particular site, as once the burial is completed, the land is returned to hay ground or pasture.
He estimates 80 percent of his customers are women. Often times, they may have had the horse for much of their life and that of their children. The average age of the horses he buries is 23.
"Where we live, a lot of people are not comfortable with the logistics of handling a large animal, combined with their emotions at the time," says Heidt. "I think there is a pretty big need in a lot of areas of the country for this service."
Other considerations include the local permit requirements and the number of acres and the type of soil on the farm or ranch.
"You should have at least 30 acres, and it should have a low water table, especially if you plan to offer the service year round," says Heidt. "You don't want the hole to fill with water. We have gentle, well-drained hillsides that are good for winter excavation. That's important, because that's when we are the busiest."
Heidt charges a flat fee of $300 for horses within 25 miles. If the owner brings the animal to the farm, either alive or dead, they pay only $150. However, if alive, the owner has to handle euthanizing it. If the animal is more than 25 miles away, the price goes up. Most of Heidt's business is within 150 miles of the farm.
Heidt doesn't advertise. Business is mostly referral, though he does have a website. What he doesn't have for backup is labor. It is just him and his wife.
"You have to accept that you are always on call," says Heidt. "This started out part-time, but with maintenance and repair, it has become a full-time job."
Contact: FARM SHOW Followup, Omega Farms, 21479 Cook Rd., Noti, Ore. 97461 (ph 541 935-1588; info@omega-farms.com; www.omega-farms.com).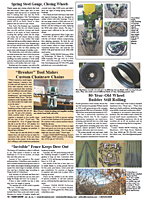 Click here to download page story appeared in.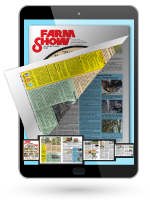 Click here to read entire issue
To read the rest of this story, download this issue below or click
here
to register with your account number.