He Bales Hay With Horse-Drawn Tractor
"You have to see it to believe it," says Ed Phillips, New Albany, Ind., who modified an old junked-out Allis-Chalmers tractor to make it light enough for a team of horses to pull to pto-power almost any kind of implement, including balers, mowers, rakes, and fertilizer-seeders.
Phillips stripped away the tractor's engine, radiator, hood, gas tank, steering gears, and steering wheel. He shortened the frame by 2 ft., removed the rear fenders, and welded a platform onto the tractor axles that supports a "high-rise" school bus seat. He "flip flopped" the front wheels and welded one end of an 11-ft. long tongue to the tractor's front spindle and attached the other end to the neck yokes. He installed tires salvaged from a 1945 Deere self-propelled combine on the rear wheels. The rear wheels turn the 4.-speed transmission which powers the pto.
"I've baled as many as 450 bales in 3 hours," says Phillips, who has built 5 of the horse-drawn tractors and demonstrated them at numerous hay machinery field demonstrations. "I built it because I already use horses on my farm to haul wood and cultivate tobacco, and I wanted to use them with more of my modern equipment. Some Amish farmers bale hay with horses by attaching a truck frame and rear end to the front of their balers to provide pto power via the truck driveshaft, but they're much heavier than my unit and obstruct the baler so that it can't be pulled by a tractor. I can buy old tractors for $300 to $600. The biggest problem is finding the right tractor. The 1945 Allis-Chalmers WC, WD, and WD 45 tractors work best because they're easy to cut down and their rear ends and wheels are equipped with reduction gears that make them easier for horses to pull. WD and WD 45 tractors are equipped with hand clutches that let you engage the pto on-the-go, which is much easier on the horses than engaging the pto from a dead stop. The hand clutch also keeps you from accidentally running over the horses when you stop. The WC tractor doesn't have a hand clutch but I can install a pto override clutch for about $60. I disengage the pto at the end of field so the horses can turn around easier. The tractor is steered by the tongue-which turns the front wheels like a tricycle. Four horses can handle a square baler on level ground. You need six horses to pull a wagon behind the baler. It takes two horses to ted and to sow grass seed. "
Phillips has used the tractor to pull a 1976 Deere 336 baler, a 1988 Deere 327 baler, a 16-ft. tedder, a 7-ft. Bush Hog mower, and a fertilizer-seeder. He tells in third gear at 350 to 400 rpms and bales and mows in second gear at 450 to 500 rpms. He never uses first or fourth gear. He welded a bolt to the gear shift so he can't accidentally shift into reverse. Phillips turned the wide 16.9 by 28 combine tires backward for better traction. "Traction is very important because while I'm baling I have to keep the horses moving or the baler will plug up. If it looks like I won't have enough horsepower, I simply pull away from the windrow."
The WD tractor is equipped with a hy¡draulic pump that runs off the transmission, allowing Phillips to raise and lower a 3-pt. mounted Bush Hog mower and fertilizer seeder. "Hydraulic power is available only while the tractor's rear wheels are turning so I have to start the horses moving before I can lift the mower and seeder," says Phillips. "After I stop, I can push a lever to let the seeder down. T may install a 12-V battery and a small hydraulic pump on the tractor so I can use hydraulics whether I'm moving or not,
Phillips used 2 by 2-in. tubing salvaged from an old Deere planter to build the tongue. A 4-horse evener is bolted to the tongue about 1 ft. in front of the tractor's front wheels. A pair of traces extends from each horse to the evener. When Phillips uses 6 horses he installs a 6-horse evener and a pair of single-trees.
Contact: FARM SHOW Followup, Ed Phillips, 4939 Hwy. 111, New Albany, Ind. 47150 (ph 812 945-6083).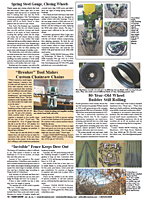 Click here to download page story appeared in.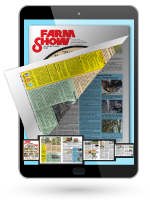 Click here to read entire issue
To read the rest of this story, download this issue below or click
here
to register with your account number.