Website Delivers Powerstroke Expertise
When FARM SHOW reader Ron Payne ran across the powerstrokehelp.com website, he had to share the news with fellow readers. The website is produced and hosted by Bill Hewitt, a Georgia mechanic who specializes in Powerstroke diesels. His Powerstroke Specialty business is located in Buford, Ga.
"He's in Georgia and I'm in Oklahoma, but if I lived closer, I would use his shop," says Payne. "He has the most marvelous videos about Powerstroke Ford trucks, covering everything from overhauls to maintenance."
In fact, Hewitt has developed such a strong reputation that he can claim customers from every state in the U.S. and Panama. Some people actually ship their trucks to his shop for work. He notes that a customer from Nome, Alaska, spent more to ship his truck to Georgia and back than it cost originally!
Hewitt says that he appreciates the business and is glad to fix the trucks. However, he made the videos to help people avoid expensive repairs or to help them fix the trucks themselves.
He explains on his site that he was inspired to make them by all the customers who arrived angry after being told by other repair shops or dealers that they needed expensive repairs.
Hewitt defends the Ford Powerstroke diesel as an engineering masterpiece and a rock-solid platform. The problem, he says, is that the Powerstroke is different from other diesel engines, and Ford has made non-compatible changes from model year to model year.
"The end result is that very few repair shops or even dealers have the technical knowledge, experience or equipment to repair and maintain your truck," proclaims Hewitt.
His in-depth knowledge of Powerstroke diesels from every model year is a result of the fact that they are the only engines he has worked on for the past 15 years.
That depth of knowledge is clearly communicated in the videos. "Hewitt has a way of explaining things so anyone can understand," says Payne.
The website has 2 sections. One offers free videos on more than 75 topics related to maintenance. The other focuses on performance of specific models and model years.
"Maintenance" covers everything from how and when to change oil and other fluids and filters, to often overlooked but vital checks.
Performance gets into how to get better fuel economy and power without hurting the truck. It covers what upgrades are available and how to make them.
A great place to start is a section entitled Common Information For All Powerstroke Diesel Trucks. It covers how to use the site with topics like How to Purchase A Used Powerstroke Diesel. A seemingly minor topic named $5 Part Will Save Your Engine is the single most important subject put on video, according to Hewitt.
This part is the coolant cap. Hewitt explains how and why Ford coolant caps tend to fail when used in a diesel application.
It is wonderful, down-to-earth writing with clear, yet extensive explanations, just as Payne describes. If more technical information is desired, Hewitt offers graduate level videos on troubleshooting and repair of major problems in the website's second section. They include the 6.0 and 7.3 Powerstroke Master Mechanic Training Series. A $99.95 subscription to either set provides 30 days of unlimited access. Combined subscriptions to both sets are also available and for longer time periods. The one-year combo is priced at $499.95.
The series cover a variety of major repairs such as head gasket and EGR repairs, as well as how to pull the engine, do diagnostics and special tool work-arounds.
As Payne said in his note to FARM SHOW, "I couldn't stop watching the videos, much like I can't put down the latest FARM SHOW until I have read it cover to cover. If you own a Ford Powerstroke, I know you will love this site."
Contact: FARM SHOW Followup, Powerstroke Specialty, 1046 Parkway Ct. D, Buford, Ga. 30518 (ph 770 931-4070; www.powerstrokehelp.com).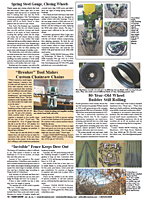 Click here to download page story appeared in.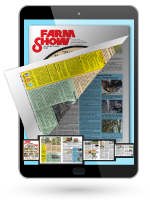 Click here to read entire issue
To read the rest of this story, download this issue below or click
here
to register with your account number.