Rare Cattle Breed Making A Comeback
Phil Lang's rare breed Randall cattle are a unique heritage breed in not being a standardized breed. What makes them Randalls is that they were a closed herd kept for more than 80 years by a family named Randall. As a landrace breed, they represent common, local, multi-purpose cattle found in New England in the late 1800's. That's just fine with Lang.
    "Their multi-purpose nature fits the philosophy we farm by at Howland Homestead Farm," says Lang. "Like the farm, they are subsistence, low-input animals that provide meat and milk."
    Unlike other breeds, Randalls haven't been selected for production traits of meat or milk. The focus since the rescue has been on conserving the entirety of the gene pool. As numbers grow, there will be more opportunity to select for production characteristics. While they are dairy-type animals, there are few defining physical characteristics for the Randalls.
    "Mature animals can range from 600 pounds to 1,000," says Lang. "What is key for Randalls is that we don't care if they're big or small or how much or the type of milk they produce."
    Lang has kept records on his herd, and it varies considerably. He admits that size and milk qualities tend to be more uniform within family lines. However, feeding can play a big role as well. His herd receives only forage. He describes them as easy keepers and suggests most breeders are looking for family cows and prefer the smaller sizes. However, he notes that Randalls kept for oxen can reach 1,800 lbs.
    "There is a very strong market for Randalls for use as oxen," says Lang. "They are extremely intelligent and very easy to train. They recall their training even if not used daily."
    The herd's variability is due to the fact that Samuel Randall of Sunderland, Vt., liked them that way. He and later his son Everett kept the family's herd isolated from other cattle. If any single trait was selected for, it may have been the colorsided lineback pattern. Most rescued animals were black or blue-black over white colors. As the breed has started to expand, other colors are being seen, including mahogany, blue, gray and recessive red.
    Initially, Lang and his wife Dianne sought out Randalls to help save the breed. Cynthia Creech had already rescued many of the original Randalls after a dispersal of the original herd in 1985. Working with her, the Langs attempted to rescue the few that remained. For the past 30 years, Creech and the Langs, along with other dedicated breeders, have been breeding and expanding numbers from the original 20 head that were saved.
    Lang estimates there may be as many as 500 Randalls today. Although a Randall registry was set up in 2001, there is no association of Randall breeders. Creech and the Langs maintain the registry and encourage Randall breeders to register births. Lang estimates there may be 30 breeders total, some with only a few animals.
    A second breed registry for Randalls exists, but it appears to have only one large breeder involved. It is largely derived from Randalls rescued by Creech.
    The Lang's herd numbers about 25 head, having been downsized some in recent years. When he has extra animals, he tries to place them with people dedicated to building the breed without changing it.
    "Randalls are in short supply because most breeders are trying to expand their herds," says Lang. "They often have a waiting list of buyers. It can take as much as 5 years to get animals."
    Lang usually sells his excess as calves not yet weaned from a bottle. Although he has sold heifers for $900 and bull calves for $450 in the past, prices vary among breeders. He suggests interested readers contact the registry for a list of breeders or visit the RandallCattleForum on Facebook to find breeders and available breeding stock.
    Check out the video of Randalls at www.farmshow.com.
    Contact: FARM SHOW Followup, Phil and Dianne Lang, 175 Geer Mountain Rd., South Kent, Conn. 06785 (www.howlandhomesteadfarm.com; www.randallcattleregistry.org).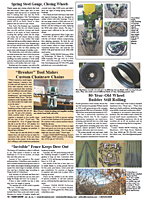 Click here to download page story appeared in.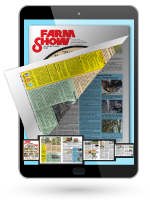 Click here to read entire issue
To read the rest of this story, download this issue below or click
here
to register with your account number.