Lasso Failure-Are You Next?
"Lasso failure ¨ are you next?" reads the big sign on Highway 65 where it passes Oscar Lee's farm just outside River Falls in western Wisconsin. Oscar put the sign up last fall after sustaining what he estimates to be an $18,000 crop loss that occured, he claims, due to "total failure of Lasso herbicide by Monsanto". He attributes the crop damage to "frozen Lasso".
"I bought 17 cans last May and used 15 of them before I began to think something might not be right. The color and consistency of the chemical didn't look right," Oscar told FARM SHOW. "I kept two cans and bought new supplies to finish my fields. At that point, I let my dealer and Monsanto know that I thought I had a problem. As the season progressed, we found out that our fields were totally infested with foxtail and that we had no weed control in the areas where we'd used the original 15 cans."
Oscar's particularly upset because, he says, he'd made a point of asking his dealer for fresh chemical. Every can of Lasso carries a warning against freezing, which is what Oscar thinks happened somewhere along the line to his chemical. "Since I'd asked for fresh material, I didn't bother to check the cans for dates until I'd already applied 15 of the 17 cans. When I did check them, I discovered that they were all dated 1979."
At that time he began taking pictures of the 100-plus acres of weed-infested soybeans and, again, contacted both his dealer and Monsanto. Oscar says that once he realized the chemical would not be effective, he ran through the beans once with a rotary hoe and cultivated another time. Even so, last fall he was unable to harvest several fields, and only parts of others and estimates his total yield loss at $18,000. He's in the process of filing a formal claim with Monsanto but says that his dealing with their field representative, and his local dealer, has been so unsatisfactory he put up his sign.
"They tried to get me to fill out a form asking how deep I'd plowed, how I had applied the chemical, what the weather conditions were at the time, and so on. I felt they were trying to get me to feel I was responsible for their mistake when, in fact, I've used Lasso successfully for years. The 50 acres of beans I treated with fresh Lasso last year, using the same procedures and rates I'd used on all my soybeans, turned out fine. So, I said I wouldn'tanswer any questions until they told me what warehouse the chemical in question had been stored in, and if it had been frozen. They wouldn't tell me anything."
Oscar plans to push ahead with his efforts to be paid for his loss. Meanwhile, he has some advice for farmers using herbicides. "Never buy chemical that's not dated for the year you want to apply it. If you do get a bad batch, don't let company representatives intimidate you into thinking it was your mistake in application if you truly believe the chemical was defective.
"As for Lasso, it's a good product but, if it's been frozen, I wouldn't use it. The can label says you can shake it up to restore it but I don't believe it. If it looks reddish with crystals settled out, I'd sure check with the dealer to make doubly sure you aren't applying leftover Lasso that's been frozen."
FARM SHOW contacted Dr. Gary Jacques, Monsanto weed control specialist who works closely with Lasso. He says alachlor, the active ingredient in Lasso, can settle out as crystals at temperatures below 32?. "That's stated on every can and most farmers and dealers are aware of it. But as is also stated on the can, you can bring it back to full strength by shaking it intermittently for several days at room temperatures."
Jacques says that at temperatures just above freezing, in the upper 30's and lower 40's, the alachlor crystals might not re-suspend themselves when shaken. "But I've never seen a case, even in our Šworst use' simulation lab tests, where Lasso lost more than 10% of its effectiveness. If it's been frozen during the winter, normal handling during the spring shakes the can up enough to completely restore the chemical."
Jacques said he's not aware of any farmers in the 12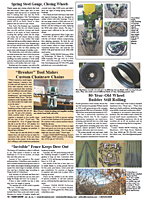 Click here to download page story appeared in.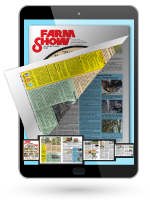 Click here to read entire issue
To read the rest of this story, download this issue below or click
here
to register with your account number.