Low-Cost Rig Processes Chickens Fast
The 500 broilers Matt Eby raises each year are too many to butcher by hand and too few to justify the cost of commercial poultry processing equipment. Looking for an alternative, he came up with low-cost ways to scald and pluck his birds.
"We have several commercial poultry processors in the area, including USDA slaughter plants, but they don't all have good reputations," says Eby. "We know we can do really high quality work ourselves."
Maintaining high quality is essential for keeping satisfied customers who pre-order broilers and pick them up at Eby's farm. Having right-sized and priced equipment lets him process birds to match demand.
"I made the plucker about 4 years ago and the scalder about 2 years ago," says Eby. "The plucker didn't require any special equipment, but the scalder did. It took longer to find the right tank."
The plucker is based on others on the market, like Herrick Kimball's Planet Whizbang chicken plucker (Vol. 31, No. 4). Like Kimball's, Eby's uses commercially available rubber "fingers." The fingers are mounted in a food grade plastic barrel with a metal plate in the bottom.
Eby cut the barrel down from 55 gal. to about 30. Powered by a 1 hp motor and reduced by a 16-in. pulley, the plate spins the barrel inside a wooden frame at about 215 rpm's.
The rubber fingers are mounted to the plate and to the sides of the barrel. They tumble the birds and pull out feathers without tearing the skin.
"If the birds are properly scalded, the plucker will remove 99 percent of the feathers in about 30 sec.," says Eby. "I can do 2 broilers at a time."
If Eby drops in 3 or 4 broilers or a large turkey, the belt slips. He plans to upgrade the plucker to resolve that problem with a 10:1 gear reducer. Although it will raise his costs to around $300, it's still far less than the $1,200 he says a comparable size unit would run.
Although it took time, Eby knew he had what he needed for the scalder when he found a stainless steel tank at his local salvage yard. It came with a built-in heat exchanger. With the addition of a wood-fired boiler and hydronic water pump, he can supply scalding water to the heat exchanger in a closed loop that keeps tank water separate from boiler water.
"At the same time I found the tank, I saw a gear reduction, chain-drive motor," says Eby. "I added a sprocket to reduce motor speed to 9 rpm's to drive a paddle."
Eby fabricated the paddle out of stainless steel, expanded metal screen and hardware. The paddle driveshaft is mounted just above water level. At 9 rpm's the expanded metal paddle churns the water without splashing and rotates the birds in and out of the water for an even scald.
"It takes 2 to 3 hrs. to get the tank up to temperature, but the 200 gal. of water reduce temperature fluctuation," says Eby. "A digital thermostat ensures precise temperature control, which is important for a good scald."
Eby says he is confident he could scald as many as 12 to 15 broilers or 4 large turkeys at a time. That is more than he can process at one time, but the price was right.
"The boiler and pump cost only $50," recalls Eby. "The total cost for the boiler and the scalding tank setup was about $700. A similar sized commercial unit would have cost from $5,000 to $7,000."
Contact: FARM SHOW Followup, Matt Eby, 56641 Glenwood Rd., Cassopolis, Mich. 49031 (ebyfarmsllc@gmail.com).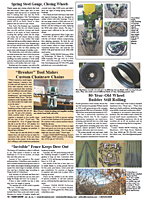 Click here to download page story appeared in.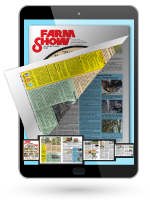 Click here to read entire issue
To read the rest of this story, download this issue below or click
here
to register with your account number.