He Likes His "Foody" Vertical Garden Towers
Gerald Wasylyshen, Lacombe, Alberta: "I like the two Foody Vertical Garden Towers I bought from Foody Vertical Gardens, LLC (www.foodyverticalgardens.com; ph 855 983-6639). It's a patio or balcony gardening system with stackable growing pods, and is capable of growing up to 40 plants on a 2-ft. square footprint. The 12-in. dia. pods have 8 growing pockets and stack together on top of a base reservoir that measures 19 in. dia. The company's standard system has stackable growing pods that are filled with potting soil and are hand watered. Their hydroponic system includes an internal water pump. You can plant seeds directly or use plant starts, depending on the system you use.
"We bought our system 1 1/2 years ago and have used it to grow vegetables such as cilantro, bokchoi, spinach, lettuce, green peppers, cherry tomatoes, and basil. Plants do really well and the towers look beautiful. It's nice to have fresh food available all the time," says Wasylyshen.
"We set up both towers in our basement, which has southern exposure but isn't lived in so we can keep it cool. Each tower is about 5 ft. tall and has 4 pods on it. We put up a small 3 by 6-ft. greenhouse, next to the basement windows that's equipped with a thermostatically controlled heater. The windows don't let the full sunshine in, so we added grow lights over each tower.
"The first year we used a recirculating hydroponic system, which uses a submersible pump to pump water from the base reservoir through a hose that runs up a center shaft to the top pod. The water comes out the edges and then automatically percolates down to all the other pods below it.
"However, we found that occasionally if we weren't careful the hose at the top didn't get fitted exactly right and sprayed water out onto the floor. We didn't want any water damage so the next year we filled the pods and reservoir with soil, which I prefer anyway because I think growing plants in soil results in better quality produce.
"I've tried several other vertical tower garden systems in the past, but I like this one best. The tower rotates on hard plastic bearings so by giving the tower a quarter turn every so often my plants get an even distribution of light. Also, being able to rotate the tower makes harvest an easier job."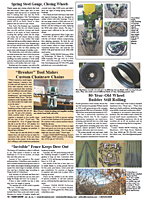 Click here to download page story appeared in.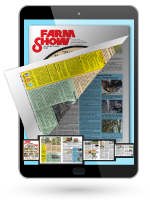 Click here to read entire issue
To read the rest of this story, download this issue below or click
here
to register with your account number.