Deere Says You Don't Own That Tractor You Bought
In July the U.S. Copyright Office will hand down a decision
on whether individuals can "repair" the software and
computer code that controls most new tractors, pickups, cars
and other equipment. John Deere, General Motors and other
manufacturers have submitted briefs to the government saying
that farmers don't own their tractors but receive "an implied
license for the life of the vehicle to operate the vehicle". In
other words, it's Deere's tractor. It's just parked on your farm.
The practical implication of the ruling would be that only
dealers or company-authorized personnel would be allowed
to work on the computerized software systems that control
everything from smartphones to combines. Individuals
or shade-tree mechanics will not be able to buy electronic
diagnostic equipment or even to hack into the software that
runs their equipment. For instance, let's say you think you can
get more power out of your new $300,000 tractor by adjusting
fuel supply to the engine and you - or your mechanic - are
smart enough to fi gure out how to adjust the computerized
code that controls the fuel system. Under the proposed
rule, you could not do it because the manufacturers own the
software in your machine.
The Electronic Frontier Foundation is fi ghting for open
access to electronics in the machines we buy. You can read
more at their website: www.eff.org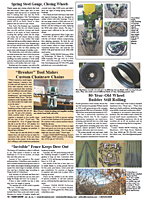 Click here to download page story appeared in.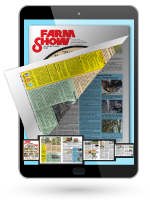 Click here to read entire issue
To read the rest of this story, download this issue below or click
here
to register with your account number.