He Geared Up For Fast Fencing
Neil Dennis can put up a quarter mile of fence in 9 minutes. The grazing guru needs to be fast, considering he moves his 1,000-head herd of stockers as many as 10 times a day. Dennis matches paddock size to grass conditions, cattle and weather. Where he puts up fence varies day by day.
    "Before I came up with this system, I would spend all day just moving fence," recalls Dennis. "Now I can move the cattle in a few minutes. Without tools like the Batt-Latch automatic gate release (see story below), my Reel Ease, and my fencing cart, I couldn't do what I am doing."
    Dennis was the first grazer in North America to put the solar powered Batt-Latch to work in his pastures. He can use it to release cattle into new paddocks automatically. Now the Canadian distributor, he not only sells them but trains customers in how they work. He shares some of his other fencing tools and techniques as well.
    "I use special temporary (non-metal) posts with metal sleeves to start and stop my temporary lines," he says. "I can attach the Batt-Latch to them, and it stays in place. I string the cross wire to it and then hang the Reel from another one at the far end."
    If the Batt-Latch with its timed release of a paddock gate makes changing paddocks easy, Dennis' Reel Ease makes it fast. The polybraid wire reel holder is designed to mount to the front rack on an ATV or the front bumper of a side-by-side. Another accessory is the adjustable pigtail post holder.
    Once he has attached the wire to the temporary post, he heads out across the field. He sets the pigtail holder at an angle that delivers pigtails to his hand. The wire automatically unrolls as he goes.
    "I pause the side-by-side, step a post in, hook the wire to it and go on," he says. "At the end of the line, I push in the temporary post with the sleeves, remove the reel from the Reel Ease, wrap it around the post and let it hang."
    Pulling up a fence is just as fast. Dennis unhooks the wire at the end opposite the reel. He resets the angle on the arm for the pigtail posts. As he goes by, he pulls them up and slips them back on the holder where they slide away from him. When he is back to the reel, he detaches it from the temporary post and winds up the wire.
    "I carry a battery-powered drill with an adapter to match the square shaft on the reel," says Dennis. In no time at all, the wire is back on the reel.
    Another valuable tool is the fencing cart. It has an assortment of racks, each designed to hold specific posts and gear.
    "One rack holds just pigtail posts," explains Dennis. "They are all kept in line so I can quickly grab the number I need. If they are in a pile, I would lose time untangling them."
    If Dennis wants, he doesn't even have to open a gate to move the cattle to their next paddock. He uses lifter posts. The steel posts have insulators recycled from an area utility and attach above cattle head height. Electricity continues to flow, but the cattle can pass under.
    Another handy tool is his Gwennie, a fence crosser. Named for a younger sister who used to open gates for him when they were young, the fence crosser lets him bypass gates. Made from square tubing, it mounts to the front of his side-by-side at an angle. He has similar fence crossers mounted to his tractors and other equipment.
    "It lets me drive right over a fence wire," he says. "My Yamaha side-by-side has a belly pan that keeps the wire sliding underneath. I never open gates anymore."
    Dennis is doing more and more speaking and consulting on the benefits of "mob grazing" and the fencing tools that make it possible. He plans to start selling his Reel Ease attachment this fall, as well as a CD on fast fencing techniques and tools.
    Contact: FARM SHOW Followup, Neil Dennis, Box 8, Wawota, Sask., Canada S0G 5A0 (ph 306 739-2896; sunnybrae@rfnow.com).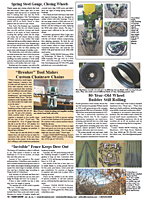 Click here to download page story appeared in.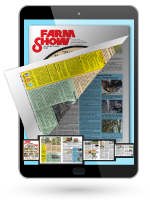 Click here to read entire issue
To read the rest of this story, download this issue below or click
here
to register with your account number.