Max-Emerge Planter Patents Ruled Invalid
Just about everything John Deere had going for it with its popular and highly profitable Max-Emerge planter was literally "tossed out the window" last month in a bold gamble by the "green giant" that backfired.
The gamble: To take Kinze Mfg., a small Iowa firm headquartered near Williamsburg, to court to settle once and for all a 7-year battle centering around Deere's best-seller Max-Emerge planter.
Ignoring an out-of-court settlement agreement drafted a year ago whereby Kinze would have paid Deere more than $1 million annually in royalties under a licensing agreement, Deere's top management elected last fall to abandon the agreement and asked for a immediate trial on patent infringement. Kinze then promptly pursued its anti-trust suit already on file, charging that Deere had misused its Max-Emerge patents by "manipulating the supply of Max-Emerge planter units to produce contrived shortages".
Kinze Mfg., the David in this case, literally slew Deere, the Goliath, emerging the big winner last month in Federal Court. Following a four-week jury trial which began last March 7, Federal Judge Edward McManus ruled, based on the nine-member jury's recommendations, that four of the five patents which Deere holds on the Max-Emerge are invalid, and that the fifth patent is unenforceable. This means that, unless Deere's appeal is successful, the Max-Emerge and all its patented features is now up for grabs. It's generic. Any company or individual ù including you ù can copy any or all of its features for commercial use. Competitors are free to pick and choose whatever Max-Emerge features they feel will improve over-all performance of their machines, without paying any heed to patents.
The antitrust suit, which went to court following the patent infringement trial, involved a lot of money. Kinze Mfg. was asking for $2.3 million in damages which, if Kinze won, would have automatically been tripled, thus pushing Kinze's total possible damages, with attorney fees, to upwards of $7 million. The trial was only two days old when Deere's lawyers made Jon Kinzenbaw, 38, president, founder and owner of Kinze Mfg., an out-of-court settlement he couldn't refuse. Terms of the settlement are secret but some of his neighbors in Williamsburg are speculating that the grin on Kinzenbaw's face is a multi-million dollar smile.
The Deere-Kinze dispute dates back to 1976 when Kinzenbaw, then 31 years old and owner-operator of a small machine and tractor repowering shop which he'd launched after graduating from high school, invented a revolutionary tool bar which accommodates from 8 to 36 row units, yet folds horizontally ù right from the tractor seat and without having to remove any row units ù in seconds to a narrow, 14.5 ft. for transport. It's generally conceded among farmers that Kinze Mfg. has the best corn-soybean planter tool bar on the market, and that Deere's Max-Emerge is far and away the best corn-soybean planter unit, accounting for well over 80% of total annual planter sales.
What seemed to be the perfect marriage of the best tool bar and best planter unit eventually snagged when Deere, which had been supplying Kinze Mfg. with Max-Emerge units, said it could no longer make "unassociated" row units (those sold separate from Deere's own tool bar) available because of a supply shortage. This forced Kinze's customers to buy complete Deere planters which they then stripped of the row units, leaving them with an expensive Deere tool bar they didn't need or want, according to testimony recorded in court documents.
In April 1977, Kinze Mfg. filed suit charging Deere with violation of the Sherman (anti-trust) Act and the Clayton Act, alleging an illegal tie-in (forcing farmers to buy complete Deere planters when all they wanted was the Max-Emerge units). The issue was settled out-of-court, with Deere agreeing to pay Kinze $60,000 and to deliver 2,000 row units which Kinze had had on order. Deere also agreed to permit its dealers to place orders against their distribution for "unassociated" row units, which they hadn't been able to do previously.
That a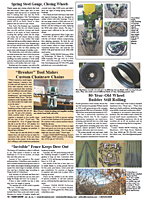 Click here to download page story appeared in.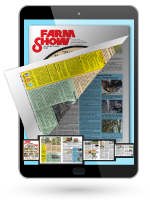 Click here to read entire issue
To read the rest of this story, download this issue below or click
here
to register with your account number.