Owner's Report On Haying, Silage Equipment
Are you satisfied with your haying and/or silage equipment? How could it be improved? Have you modified your equipment in any way? Have you tried any management "wrinkles" in handling hay or silage? What equipment would you like to see developed?
These are some of the questions we asked randomly-selected hay and silage equipment owners in an effort to highlight those systems that perform with flying colors, and to pinpoint the "lemons" that fail because of poor performance, or failure of the dealer or company to provide service.
Here are the responses to our "ask the man who owns one" survey:
Are you satisfied with your equipment? How could it be improved?
"Our Deere 1214 hay conditioner does a good job but we have had trouble with the header frame cracking," says Leonard Veldhuizen, New Sharon, Iowa. "I'm pleased, however, with our 1980 Deere 3960 forage harvester, especially its 7-ft. pickup unit, the cutterhead set-up, and the two-speed blower fan. I'm hopeful it will be as durable as our previous Fox super 1000."
"You spend more time backing up to unplug the mower than you do cutting hay," says William Bones, Franksville, Wis., disappointed with his 1980 Owatonna 207 mower conditioner. "Heavy dews are prevalent in our area, which is about five miles from Lake Michigan. The 207 sickle bar mower doesn't work with dew on the alfalfa and, around the lake, dew doesn't come off until about noon."
Lloyd Bohl, Grant Park, Ill., likes the Deere 336 twine baler which he bought used. "It runs with a minimal amount of downtime and repair expense. There are two changes I would like to see the manufacturer make. One is to add wedges in the side of the bale chamber to firm up straw bales more, and they should provide a rack to store a day's supply of twine right on the baler."
J.W. Pick, Macoun, Sask., is pleased with his Vermeer big round baler. "It has good capacity, is relatively trouble free and performs well. I would like to see sturdier bearings and more design consideration to repair and replacement of bearings."
"It's trouble-free and will not plug when cutting first-crop hay, which is often down and tangled. It also works good for windrowing cornstalks for baling. It chops up alfalfa too much, though, if it is short and light," reports David Erickson, Altona, Ill., about his MC rotary scythe.
"We can cut as much as a ton a minute," says Glenn Brooks, Athens, Ala., pleased with his New Holland 892 forage harvester. "It has plenty of capacity, chops very fine with almost no problems. We're happy with all our New Holland haying equipment."
Harold Multhaupt, Valcourt, Quebec, is happy with his New Holland 1980 Haybine. "It cuts neat, fast and is very efficient."
"It's easily attached and does an excellent cutting job under a variety of conditions. It's really helpful when fields are too soft for the haybine. Most adjustments are easily made with easy access," says George F. Smith, Valley Grove, W. Va., pleased with his 1980 New Holland 451 mower. He has a couple suggestions for improvement: "They should design an easier way to remove and replace knives. The head bolt is a little difficult to get at, and the trip pivot can go past center so the mower won't reposition itself as it should."
"This Hesston 5800 round baler has baled over 5,000 bales for us and our customers with very little repair and cost to us. We're expecting to get that many more bales before any major work is needed. Works great in both hay and cornstalks," says Jack Pickard, Rhodes, Iowa. "The baler makes a hard core bale which means more hay per bale."
"We're happy with this baler because it does a great job on cornstalks. We leave the chopper off the combine and bale the windrow behind the combine. I think the company has made the necessary improvements in their new balers but I'd like to see a better way of holding string after it's been tied," says Joe Irwin, Sr., West Terre Haute, Ind., about his 1981 New Holland 851 baler.
D. A. Tschetler, Huron, S. Dak., also says his New Holland 851 baler was a good buy. "It's very reliable. However, the pickup shou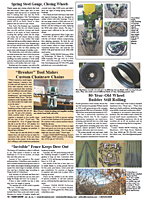 Click here to download page story appeared in.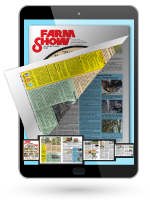 Click here to read entire issue
To read the rest of this story, download this issue below or click
here
to register with your account number.