Twin Row Wheat Takes Off For Kansas Farmer
Kansas farmer Charles Dugan believes using a planter rather than a grain drill to sow winter wheat will pay off in improved seed placement, thus boosting wheat yields. That he uses just one machine to do all his planting is a nice bonus.
Dugan, who farms northwest of Riley, will sow his second crop of wheat in 30-in. "twin rows" using a Great Plains Yield Pro planter this fall. His first crop, harvested in July, averaged 58 bu. per acre—very good considering they were planted into soybean stubble last fall.
"Fifteen years ago, we used to raise 60-plus bushel per acre wheat, but our yields seem to be declining," he explains. "Now, about 55 bu. per acre is the best most area farmers can do."
Dugan's crop rotation includes soybeans and wheat. Soybean yields are improving consistently. However, rather than accept poorer wheat yields, he studied ways to improve seeding operations and get more consistent stands.
Seed placement is more precise, planters are built tough to penetrate hard ground and lots of residue, and using the same planter for both crops are a few of the benefits. Few farmers use a planter for wheat, but Dugan talked to researchers and equipment companies to learn more. Many of them advised against it because of increased weed growth in wider rows.
But Dugan has his own self-propelled sprayer, so if weeds do become an issue—a good bet most years—he can run the sprayer through the wider rows.
The planter, he reasons, does a more effective job than a grain drill of cutting through residue and placing the seed in the furrow.
"We had used a no-till drill, but it didn't cover the seed as well as I would have liked. I had been disappointed using it to plant wheat. I don't care what kind of no-till drill it is, it will not penetrate green soybean stubble," he says.
Dugan planted 98 lbs. of seed per acre, the same that would be planted with a grain drill.
The planter, a Great Plains 1225 Yield Pro that he bought used, fits nicely in his wheat/soybean crop rotation. In the twin row set up, two rows are just 6 in. apart; the next row is 24 in. away.
This planter has a single seed hopper and liquid fertilizer system. Its row units are staggered, improving the drill's ability to cope with crop residue. Individual rows can be locked up, in case he wants to plant in conventional 30-in. rows.
With the first year of planting twin rows under his belt, Dugan is considering buying a newer model of twin row planter. He's convinced that this system would work well for other farmers, particularly those who typically plant wheat in 10 or 12-in. rows. There's no going back to his grain drill.
"I'm pleased enough that I don't own a grain drill anymore," he says. "I've already sold it."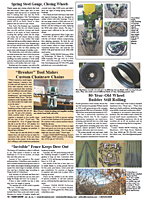 Click here to download page story appeared in.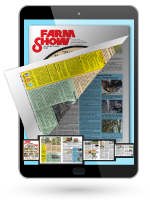 Click here to read entire issue
To read the rest of this story, download this issue below or click
here
to register with your account number.